EU's Foreign Policy Chief Calls for Naval Patrols in Taiwan Strait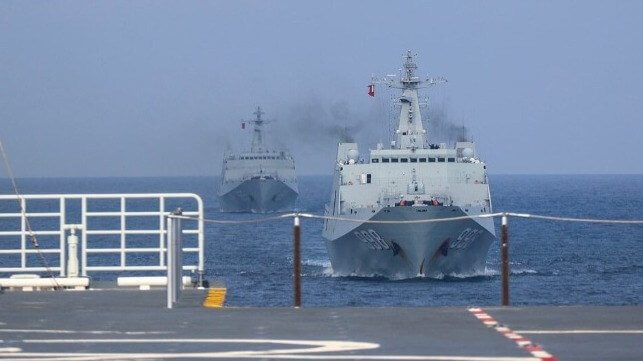 Josep Borrell, the European Union's top foreign policy official, has published an op-ed calling for European nations to deploy a naval force to the Taiwan Strait in order to demonstrate a commitment to freedom of navigation "in this absolutely critical area." The call is a clear repudiation of recent comments by French President Emmanuel Macron, who told Politico last month that Europe should stay out of any fight over the fate of Taiwan and avoid "crises that are not ours."
In an op-ed published in a French diplomatic journal, Borrell addressed the simultaneous need for Europe to cooperate with China on climate and international development; to manage its trade relations with China without decoupling the two economies; and to stand firm on security issues, including maintaining the current status quo for Taiwan and deterring Chinese military support for the Russian invasion of Ukraine.
Borrell's comments on freedom of navigation in the Taiwan Strait drew immediate pushback from Beijing. The Chinese Communist Party's top foreign-policy objective is to attain reunification with Taiwan, which it views as a breakaway region without a legitimate government.
"If European warships still want to show off their might in the Pacific today, the result would only be an embarrassing failure," opined the state-owned Global Times, a policy-focused division of People's Daily. "For the People's Liberation Army, which has powerful strength to defend its homeland, facing European warships that come to provoke and show off is not even worth raising an eyebrow. We advise them not to bring shame upon themselves."
The pushback echoes China's reaction to recent remarks by South Korean President Yoon Suk-yeol, who offended Beijing last week by suggesting that China-Taiwan relations affect multiple nations.
"The Taiwan issue is not simply an issue between China and Taiwan, but like the issue of North Korea, it is a global issue," Yoon said.
China's response was swift and forceful, as is typical for any breach of its "One China" vision of Taiwan and China as a single entity.
"The South Korean leader made no mention of the One China principle but equated the Taiwan issue with the Korean Peninsula issue," Chinese Vice Foreign Minister Sun Weidong responded to Yoon in a formal complaint. "It is a well-known fact that the Korean Peninsula issue and the Taiwan issue are completely different in nature and in latitude and longitude and are not comparable at all."