EU Moves to Counter U.S. Sanctions on Iran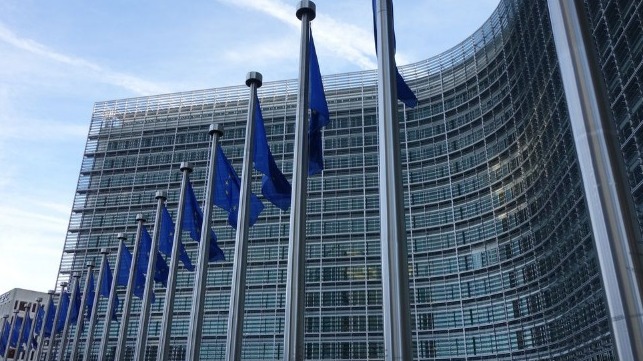 The European Union is attempting to shield EU companies from the Trump administration's renewed sanctions on Iran. The so-called secondary sanctions will heavily penalize foreign firms that do business with Iran, effectively forcing global companies like Maersk, Torm, Siemens and Total to wind down their Iranian business ties.
On May 8, President Trump announced that he would withdraw the United States from the Joint Comprehensive Plan of Action, an agreement negotiated by the Obama administration and European partners that saw Iran give up 97 percent of its nuclear material. In return, the U.S. and EU allowed most Iranian trade and investment activity to resume.
The EU has objected to President Trump's decision to withdraw, and it has assured Tehran that it will honor the existing agreement. "As long as the Iranians respect their commitments, the EU will of course stick to the agreement of which it was an architect - an agreement that was unanimously ratified by the United Nations Security Council and which is essential for preserving peace in the region and the world," said EC president Jean-Claude Juncker on Friday morning. European Council president Donald Tusk was more blunt, criticizing the "capricious assertiveness of the U.S. administration" in its approach to foreign policy.
U.S. national security adviser John Bolton has warned that the U.S. may decide to impose secondary sanctions on European companies if they continue to trade with Iran. "I think the Europeans will see eventually that it's in their interest to come along with us," Bolton said in a recent interview. Whether the U.S. would penalize European companies for their business ties with Iran "would depend upon the conduct of other governments," Bolton said.
On Friday, all 28 EU nations backed a measure to counter American sanctions by updating a 20-year-old "blocking statute," which was originally enacted to counter a U.S. embargo on Cuba. The statute prohibits EU companies from complying with American sanctions and permits them to claim damages from "the person causing them."
While the statute sends a strong diplomatic message, analysts suggest that it may not be enforceable, since it would require EU companies to choose between complying with American or European law. In addition, firms that suffered losses by violating American secondary sanctions would likely find it difficult to recover damages from the American government, pointed out analyst Thomas Gratowski of Global Counsel, speaking to CNN.
EU-U.S. trade relations were already strained when Trump announced America's withdrawal from the JCPOA. The administration is also considering steep tariffs on imported steel and aluminum to protect domestic industry, and while it has exempted European products so far, it has not yet reached a final decision.