U.S. President Donald Trump's 2018 budget request is designed to meet his promise to cut wasteful spending and make the government work for the taxpayer again. For the offshore industry, this involves a range of changes including a cut to EPA funding, boosting training for the nation's offshore regulators, funding oil spill research, halving the nation's emergency oil stockpile and opening the Alaska National Wildlife Refuge to drilling.
The budget proposed a $204.9 million 2018 budget for the nation's offshore agency the Bureau of Safety and Environmental Enforcement (BSEE). This is a $600,000 increase above the 2017 level. BSEE's budget request includes a $1.2 million increase for training and $12.7 million for oil spill research.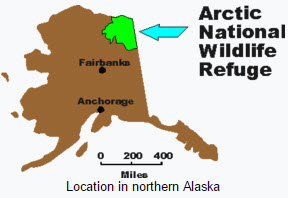 The budget request seeks to boost government revenues by allowing drilling in the Arctic National Wildlife Refuge. Leasing could begin to pay off in fiscal 2022, with $100 billion in projected revenue that year. Trump has already moved to expand U.S. offshore drilling, including in parts of the Arctic.
The budget would also cut the EPA's funding by $2.6 billion, a cut of over 30 percent and the largest for any cabinet-level agency.
"The President's proposed FY 2018 budget fully reflects the Administration's emphasis on ensuring the safe and responsible development and production of the Nation's offshore energy resources," said Acting Director Margaret N. Schneider. "The President's request supports BSEE's efforts to permit offshore energy operations efficiently and ensure safety of advanced technology required to explore, develop, and produce in deeper waters and challenging environments."
However, industry body National Ocean Industries Association (NOIA) has voiced some concerns over the budget request, with President Randall Luthi saying: "NOIA whole-heartedly appreciates the Trump administration's overall pro-American energy message and supports the President's budget proposals that will serve to advance the safe and environmentally-responsible development of offshore energy resources; particularly the development of a new five year offshore leasing program and streamlining of permitting and inspection processes.
"However, budget proposals regarding Gulf State revenue sharing and the Strategic Petroleum Reserve (SPR) appear to miss the mark on the Administration's stated goal of energy dominance. Eliminating Gulf state revenue sharing for offshore energy production would punish coastal states that support and host the development of home-grown energy and jobs, and would be a serious step backward in the quest for energy reliability and independence."
The Trump administration expects the repeal to save $272 million in 2018 by rescinding the sharing of about 35 percent of Gulf offshore revenue with Gulf states. The money lost to Gulf states would total $3.56 billion through fiscal year 2027.
Former President Barack Obama proposed cutting funding for the Gulf of Mexico Energy Security Act in 2015, but his effort was turned back by Congress.
The U.S. Strategic Petroleum Reserve, the world's largest, holds about 688 million barrels of crude oil in underground caverns in Louisiana and Texas. It was established in 1975 after the Arab oil embargo caused fears of long-term motor fuel price spikes.
The Trump budget proposes to start selling SPR oil in fiscal year 2018, a move that could potentially generate generate $500 million. Sales from the SPR would gradually rise over the following years, peaking at nearly $3.9 billion in 2027, and totaling nearly $16.6 billion from 2018 to 2027.
"The proposed sale of one-half of the nation's emergency oil supply in the SPR could threaten domestic energy security by limiting our ability to counter any unforeseen supply interruptions," says Luthi. "Any plan for depleting the SPR should be accompanied by a plan to refill it."
The Budget Justification for BSEE is available here.