Eastern Shipbuilding Loses Appeal on Coast Guard Cutter Contract Award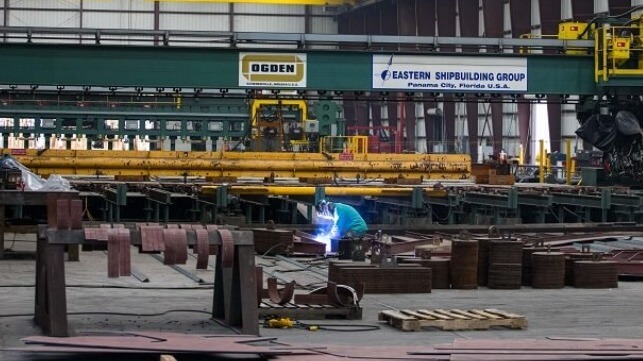 A federal court has turned down Eastern Shipbuilding's appeal to regain the contract for the next set of Offshore Patrol Cutters (OPCs) for the U.S. Coast Guard. The decision effectively finalizes the Coast Guard's recompete process for the contract for the next 11 hulls in the series, confirming the award to neighboring shipyard Austal USA.
The OPC contract was awarded to Eastern Shipbuilding in 2016 under then-Commandant Adm. Paul Zukunft. It was the largest single line item in Coast Guard history, with a maximum possible value of $10.5 billion for 25 ships.
The first vessel, USCGC Argus, was due to deliver in August 2021. However, the impact of Hurricane Michael in 2018 set back production and affected Eastern Shipbuilding's workforce and facilities, prompting the Department of Homeland Security to adjust the contract terms. Eastern kept its orders for the first four hulls in the series on an extended delivery timeline, and the remaining work was recompeted.
In June 2022, Australian-owned Austal USA won the new contract for hulls five through 15. It is worth $3.3 billion, assuming all options are exercised, and it is among the first orders for the Alabama yard's new steel construction line.
After the Department of Homeland Security awarded the new contract to Austal, ESG filed an administrative letter of protest, claiming that Austal had an unfair advantage because it had hired a former Coast Guard officer with knowledge of ESG's proprietary information. ESG also claimed that its bid was higher rated and provided lower risk for the procurement program.
ESG later filed a suit in the Court of Federal Claims, upgrading its protest. That appeal has been in the works for more than a year, and it is now finished. In a ruling issued by Chief Judge Elaine D. Kaplan on Monday, the court turned down ESG's claim; the specifics of the decision will be available later this month, after Austal and ESG have an opportunity to request redactions of commercially-sensitive information.
In a statement, Eastern Shipbuilding Group CEO Joey D'Isernia expressed disappointment with the court's decision, but he said that the yard is confident in the strength of its commercial and government business prospects going forward.
"After the OPC Stage 2 decision was announced last year, we quickly pivoted our business development priorities," D'Isernia said. "We have made huge strides on these growth initiatives. While we are ardent about sustaining the OPC production line for OPC's, we stand as a critical asset for the Navy's industrial base as they embark on the aggressive expansion of their future fleet."
Looking ahead, Eastern holds a $257 million contract for the design and construction of the U.S. Army Corps of Engineers' Medium Class Hopper Dredge (MCHD), and it is in the process of building a 300-foot ferry for the Bridgeport and Port Jefferson Steamboat Company. It also holds a contract to convert a 280-foot offshore supply vessel into a service operation vessel (SOV) for offshore wind farm service.
"Eastern is not only an invaluable partner in advancing the national security interests of the United States, it is a community partner in Panama City and a big creator of Florida jobs. I'm proud of the work Eastern has done in partnership with the Coast Guard and hope to see many more projects come to the Sunshine State," said Sen. Rick Scott (R-FL) in a statement.
Austal moves ahead with its OPC program
In the neighboring port of Mobile, Alabama, Austal USA is hiring up workers to build its new OPC - but it is also working through its own organizational and financial challenges. A past accounting scandal connected to the Independence-class littoral combat ship (LCS) program recently resulted in criminal charges for three former Austal USA executives, and in August the yard appointed its third president in three years.
The leadership changes are connected to financial losses on a new government contract. Over the summer, parent company Austal Ltd. told shareholders that it had underbid on a U.S. Navy tender for the T-ATS fleet tug program because it made "inaccurate assumptions" about time and cost for operating its brand-new steel construction line. It is appealing to the federal government for a contract change to help cover the cost overrun.
"It is clear that we need to make changes to some reporting structures and processes so that Austal USA can identify and rectify these sorts of issues in a more timely manner," said Paddy Gregg, CEO of Australian parent company Austal Ltd. in a statement in July.
Several financial outlets have also reported that Austal USA's Australian parent company, Austal Ltd., may be headed for a sale. Hanwha Ocean, the inheritor of South Korean shipbuilder DSME, is among the reported potential buyers. The Korean company has deep ties to U.S. commercial shipbuilding, and is also tipped as a potential suitor for Norwegian-owned Philly Shipyard.
Florida's congressional delegation has long supported ESG's bid for the OPC contract, and several representatives expressed frustration that the rebid contract will still go to Austal.
"With everything that has been reported about Austal's questionable financial situation, foreign ownership interests and potential acquisitions by overseas entities . . . the Coast Guard would be wise to continue the Eastern production line. We need to protect our national security and these priceless jobs," said Congressman Neal Dunn (R-FL), who represents ESG's district.
"I am confident Eastern Shipbuilding will continue building reliable, state-of-the-art ships. Unfortunately, the Coast Guard's decision to hand the OPC contract to Austal . . . threatens the viability of the entire OPC program and U.S. national security," said Sen. Marco Rubio (R-FL) in a statement.