Duterte Welcomes Chinese Warships to Philippines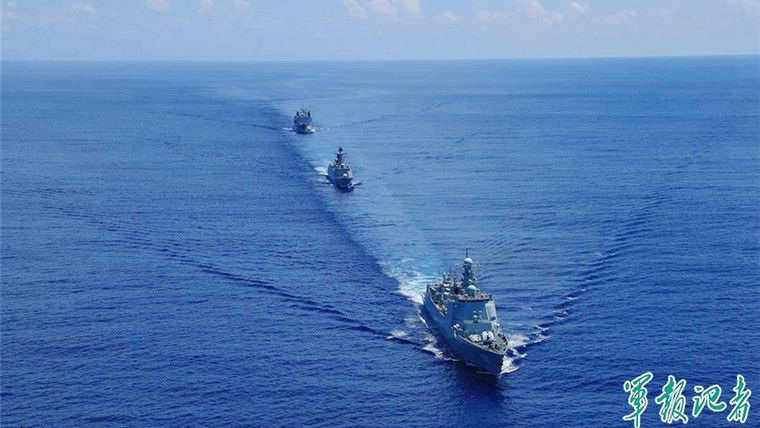 On Monday, Philippine president Rodrigo Duterte welcomed three ships of the Chinese People's Liberation Army (Navy) to his home town of Davao, Mindanao.
"Very impressive," Duterte said, following a tour. "It's clean and even the carpeting, it's all carpeted inside, it's like a hotel." Returning the complement, RAdm. Shen Hao, the PLAN Deputy Commander of the East China Sea, expressed his hope that the "Philippines and China can be friends forever."
According to the official military outlet PLA Daily, the vessels were the destroyer Changchun, the frigate Jingzhou and the supply ship Chaohu.
The goodwill visit from China is the third port call from a "near-peer rival" of the U.S. Navy that Duterte has attended, following visits by Russian warships in January and April. Since he took office, Duterte has routinely de-emphasized the longstanding mutual defense treaty between Washington and Manila in favor of new ties with Russia and China.
Relations with China were tense under Duterte's predecessor, strained by China's island-building campaign in the Spratly Islands and a related (successful) claim that Manila filed with the Permanent Court of Arbitration in the Hague. Duterte has essentially set the court's favorable ruling aside, and has suggested at times that the Philippines can't hope to protect its island claims in the face of China's might. However, he has also called on his military to fortify and defend the islands, and he recently dispatched Defense Secretary Delfin Lorenzana to disputed Pag-Asa Island to emphasize Philippine sovereignty – much to China's displeasure.
An invitation from Donald Trump
News of the friendly welcome was overshadowed Monday by a friendly invitation from U.S. President Donald Trump, who spoke with Duterte by phone on Saturday and invited him to come to the White House. Human rights groups immediately protested that the invitation would confer legitimacy on the controversial Philippine leader: Duterte has openly called on the police and the public to kill suspected drug dealers without trial (and has boasted of doing so himself). Despite complaints of human rights abuses, the outspoken president remains popular in the Philippines.
A Duterte spokesman confirmed the invitation and told the Times that Trump had expressed his "appreciation of the challenges facing the Philippine president, especially on the matter" of drugs.