"Digital Twin" Modeling Guides U.S. Navy's $21B Shipyard Plan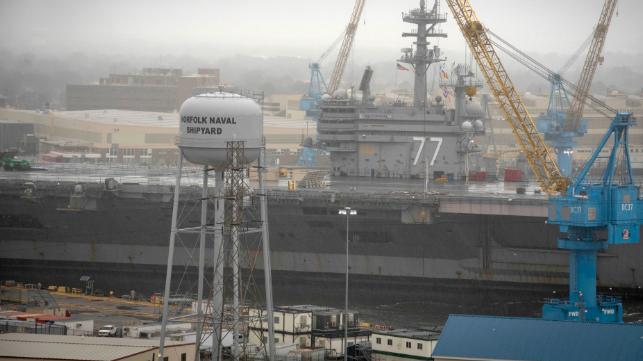 The U.S. Navy has launched a $21 billion program to recapitalize its ailing public shipyards, and its first task is to create "digital twin" computer models to evaluate and optimize each yard's infrastructure.
The Navy's public yards - Norfolk Naval Shipyard, Portsmouth Naval Shipyard, Puget Sound Naval Shipyard and Pearl Harbor Naval Shipyard - handle the bulk of repairs on its subs and surface combatants. They were built in the age of sail and steam, and their facilities are outmoded and in decline.
This has contributed to chronic delays and long backlogs, especially for submarine repairs, and the Navy wants to spend $21 billion over 20 years to give them a thorough overhaul. The service hopes that the revamped yards will have enough room to handle not just maintenance, but also the decommissioning of nuclear-powered subs and carriers - an expensive and time-consuming task.
First, though, comes planning - aided by the latest 3D digital tools. "We are utilizing modeling and simulation as a tool to integrate [drydocks, facilities and capital equipment[ to better inform the desired infrastructure layout," said Steven Lagana, the program manager for the shipyard overhaul program. "Through this, the Navy will be in a better position to make meaningful, long-lasting investments that not only address the condition of the facilities and equipment but also change the way the work is conducted. Once we're finished, the Navy will recover more than 300,000 work days per year, every year."
The program office will host its first industry day on April 8 at the Washington Navy Yard, and Lagana says that it is sold out. "We have more than 100 companies from 19 states and the District of Columbia who are coming to hear about the program and see how they can be part of this once-in-a-century team," he said.