Design for Larger Gas Carriers Using B-Type Tanks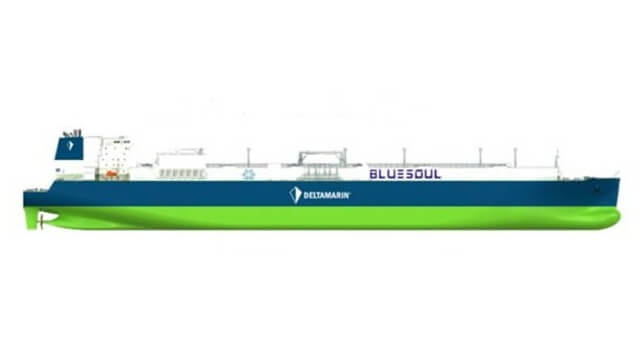 With demand high for new LNG gas carriers and long waits anticipated for construction, Singapore-based LNG Easy which is focused on innovations for the market has a concept for a larger and more economical vessel that it believes would provide new advantages for LNG exports. The concept is to focus on larger vessels using new tank designs that are more advantageous for shipping.
The current largest LNG carriers are the Q-Max vessels introduced more than 15 years ago for Qatar with a capacity of as much as 266,000 cubic meters of LNG. Measuring 1,132 feet in length they were the largest vessels that could be handled at the Qatari fields. Qatar built 14 of these ships and followed them with a second class the Q-Flex class. Smaller at 1,033 feet in length they built 31 of these ships each able to transport approximately 210,000 cbm.
The standard in the sector however remains the current class of vessels with a capacity of up to around 175,000 cbm. They are currently in wide demand as the vessels are versatile in their operations and able to reach most of the terminals and prods involved in the trade. The record orderbook for gas carriers is centered on this size of vessel.
LNG Easy working with Blue Soul, a Shanghai-based marine environmental technology provider, and the Chinese-owned Deltamarine, which is headquartered in Finland, has entered into an agreement to develop and commercialize new LNG carrier designs. They are proposing to increase the carrying capacity to 235,000 cbm which would be nearly a third larger than the current standard with a new class between in Q-Flex and Q-Max in capacity.
A key feature would be using the B-type cargo containment system (CCS) being developed in China by Blue Soul, and elsewhere. The new CCS system is similar to the B-type from Japan, using Alu 5083 as material. It would be of prismatic shape which the companies said would mean it is "free from sloshing concerns" for the cargo.
The construction and installation method for the cargo tanks they estimate would enable the shipbuilder to save an estimated 10 to 11 months in construction time. It would also overcome some of the current bottlenecks with a lack of skilled welders, drydock space, outfitting quay, and gantry-crane capacity.
They said that the designs will focus on bigger sizes which will offer FOB buyers or DES sellers for long-haul LNG trade a better economy of scale. They believe that ships built to these designs will be great spot traders/floaters as well as mother vessels for breakbulk/buildbulk operations through ship-to-ship transfer.
The vessels would be capable of loading/unloading in any quantity and sail in partially loaded conditions, catering to the increasing trend of LNG commoditization and gaining pace for LNG bunkering.
No timeline was proposed for the development and potential for the introduction of the new larger gas carriers.