Defects Delay Startup of Japan's First Floating Offshore Wind Farm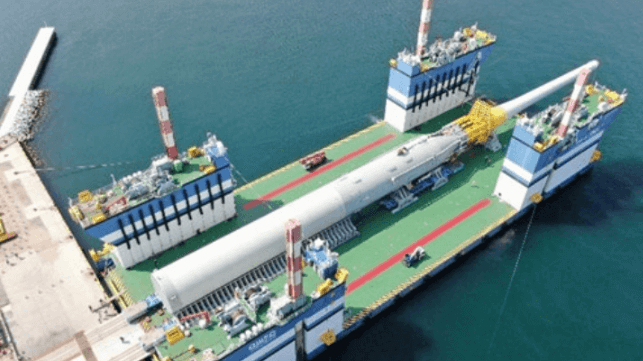 The Japanese consortium Goto Wind Farm LLC has temporarily delayed commissioning of the Goto offshore wind farm in Southwest Japan. The project is Japan's first floating wind farm and was initially scheduled for January 2024.
However, discovery of defects in a floating structure has necessitated rescheduling for January 2026, according Toda Corporation, which is leading the project's construction operations.
"An application was filed to revise the project's public occupancy plan, which was approved by the national government (Ministry of Economy, Trade and Industry and Ministry of Land& Infrastructure) on September 22, 2023," said Toda in a press statement.
Toda first discovered the defects back in May in two floating structures while under construction at an onshore yard. Subsequent investigations confirmed the structural problems and corrective measures are ongoing.
Additionally, Toda has also promised it will conduct inspections of a floating structure already installed off the coast of Sakiyama to verify the existence of defects. One of the three floating structures installed off the coast of Sakiyama will be landed on the yard in Fukue Port where the integrity of the floating structure will be verified. Based on the results, Toda plans to decide whether to inspect the remaining two floating structures.
Goto floating offshore wind farm is expected to have a 16.8 MW generation capacity. It will feature eight Hitachi 2.1 MW wind turbines installed on spar-type, three-point mooring floating foundations. (Norwegian oil company Equinor has transitioned away from a proprietary spar-type foundations in favor of a triangular platform design, which has less complexity.)
The Goto Floating Wind Farm LLC Consortium was awarded the tender for the project in June 2021. It happened during Japan's first offshore wind auction since the country's Renewable Sea Area Utilization Law came into power in 2019.
According to the Japan Wind Power Association, Japan has potential to generate around 90 GW of offshore wind energy. Most of this offshore wind capacity would have to come from floating wind farms, as Japan's vast coastline is characterized by deep coastal waters.