Date Set for Development of Yamal?s Kharasaveyskoye Field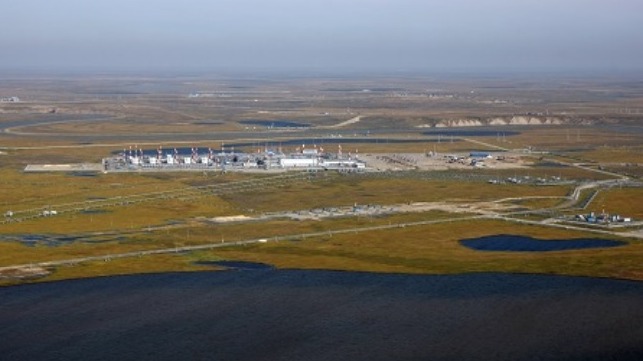 Gazprom has announced that full-scale development of the Kharasaveyskoye field will begin in 2019.
Kharasaveyskoye is located north of Bovanenkovskoye, mostly onshore in the Yamal Peninsula and partly offshore in the basin of the Kara Sea. The field contains an estimated two trillion cubic meters of gas. Its Cenomanian-Aptian deposits will be a priority, with the start of gas production slated for 2023 at a design capacity of 32 billion cubic meters per year. Deeper deposits will be developed later.
The Yamal Peninsula is of strategic importance to the Russian gas industry, and Gazprom's Yamal gas production center is expected to be the largest such center in Russia as it forms a replacement for the dwindling reserves of the Nadym-Pur-Taz region.
Currently, two gas production facilities are successfully operating at the Bovanenkovskoye field, which forms the basis of the Yamal center. This year will see the launch of the third and final gas production facility, which will bring the field to its design production capacity of 115 billion cubic meters of gas per year.
Kharasaveyskoye's pre-development project envisages the construction of a comprehensive gas treatment unit, a booster compressor station, clusters of producing gas wells, and transport and power infrastructure. Offshore wells will be drilled from onshore. To transmit gas extracted from Kharasaveyskoye, a 100-kilometer (60-mile) gas pipeline will be built to connect to Bovanenkovskoye.
Over 1.5 million tons of equipment and materials will be delivered to the field during the construction period. In winter, the Obskaya – Bovanenkovo railroad and a winter road between the Karskaya station and Kharasaveyskoye will be used to supply the project. In summer, shipments to Kharasavey port will be made by sea and river transport.
Kharasaveyskoye is characterized by complex geocryological conditions, including thick permafrost and high soil salinity, which makes it especially difficult to set up facilities in the area. In order to avoid the risks of permafrost melting, it is planned to widely use vapor-liquid cooling systems. To prevent permafrost from melting during gas production, wells will be constructed with thermally-insulated tubings and casings. Closed-loop water supply systems will help avoid soil and water pollution. The field's linear facilities will be provided with special crossings for deer and wildlife migration.