d'Amico Invests in Long Range for the Long Haul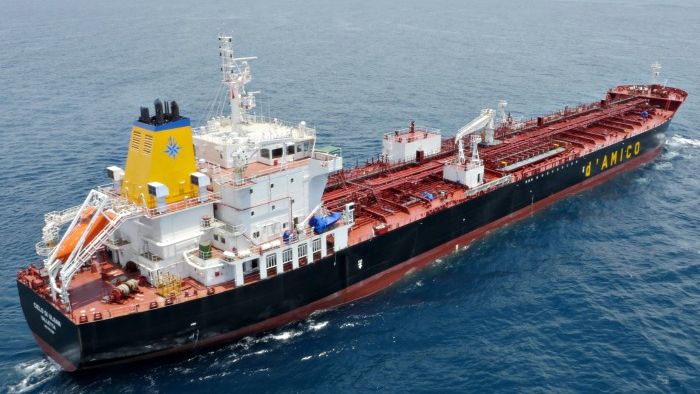 Italian firm d'Amico International Shipping has been a low-key leader in the tanker market for decades. It operates a fleet of about 55 MR and Handysize product tankers worldwide, carrying petroleum products and vegetable oils for a wide variety of customers. The market is soft right now, but the firm nearly broke even in the first half, and it is positioning itself for a future of better freight rates.
"All the medium/long-term fundamentals of the industry are pointing to a proper market rebound starting probably from the end of 2017/beginning of 2018," said CEO Marco Fiori. "On the one side, demand for seaborne transportation of refined products is expected to continue on its growing pattern in the years to come, given the dislocation trend of refineries away from some of the key consuming regions. On the other end, the estimated supply of new vessels for the next two years is projected to reach its lowest levels in almost 15 years."
To prepare for a rebound, d'Amico is investing $750 million in its young, MRV-compliant fleet. The average age of its tankers is already less than 8 years, below the industry average. In particular, d'Amico is building a small fleet of LR1 tankers – its first in this larger size. "It is important to strengthen our presence in the LR1 market, which I am sure will prove to be a very rewarding segment," said chairman Paulo d'Amico. He cited a "very low orderbook and . . . the concentration of the world refining capacity in the US and in the Middle and Far East, away from some of the main consuming regions." A larger vessel class will offer greater economies of scale on these new, long-distance routes, d'Amico says, raising their competitiveness relative to the firm's current fleet of MR vessels. In addition, newly built ships of all sizes can offer better fuel efficiency and may be built with future compliance requirements in mind – an important consideration with the upcoming 0.5 percent sulfur content cap for bunkers in 2020.
d'Amico is financing its newbuilding program in part through a sale-leaseback arrangement. An investment vehicle controlled by Sole Shipping recently purchased the 2005-built d'Amico tanker High Priority for $13 million – about $6.5 million more than the outstanding loan value attached to the vessel, generating cash that can be used for new ships. The firm will retain control of the Priority under a bareboat charter agreement for five years, at which time d'Amico will have to repurchase her at a competitive price – and, hopefully, at a better time for the cyclical product tanker market. d'Amico also sold two tankers outright in the first quarter, arranged for another sale-leaseback in the second quarter and executed a rights issue of $38 million in May.
The firm is building its new LR1 tankers at the Hyundai Vinashin shipyard in Vietnam, a subsidiary of Hyundai Mipo Dockyard, and d'Amico took delivery of the first three ships in the class on Thursday. "Vietnam is becoming the shipbuilding hub of our fleet," said Paolo d'Amico. "Our partnership with Hyundai Vinashin allows us to work in close cooperation with the yard, adopting innovative choices to build vessels with outstanding quality, versatility and the energy- efficiency requested by our customers, including oil majors."