Cuban Maritime Migration Slows to a Trickle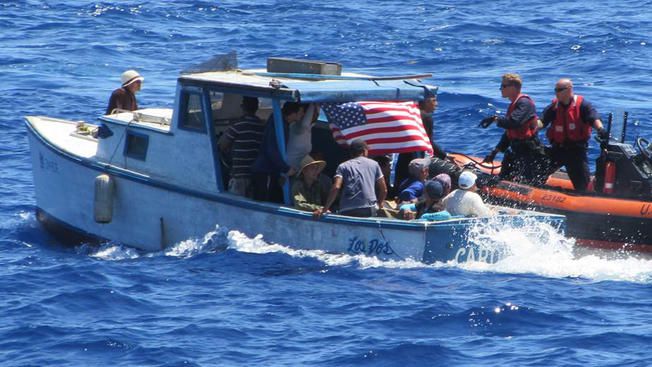 On Tuesday, the U.S. Coast Guard said that the number of Cuban migrants attempting to reach American shores has fallen dramatically since President Barack Obama ended the longstanding "wet foot / dry foot" policy in January.
"Wet foot / dry foot" was a continuation of the Cuban Adjustment Act, which allowed permanent residency for Cuban nationals intercepted in U.S. waters. It was conceived at the height of the Cold War as a way to protect opponents of the Castro regime, and was modified under President Bill Clinton to allow residency for Cubans who made it to U.S. shores ("dry feet") but to deny it to those intercepted at sea ("wet feet"). The policy was a source of friction with Havana, and its discontinuation was one of the many measures the Obama administration took to improve relations with Cuba.
Since "wet foot / dry foot" ended, the number of at-sea interdictions has fallen from 25 per day to just 20 per month, according to Coast Guard Sector Key West spokeswoman Lt. j.g. Kate Webb. The favored mode of transportation has also changed: the migrants have taken to using speedboats rather than rustic or improvised craft, and the cost of the crossing has gone up dramatically.
In early April, the Coast Guard said that it had intercepted over 100,000 Cuban migrants in FY 2016. Towards the end of the year, the migration flow took on an air of desperation. In several incidents, refugees caught at sea shot themselves or ingested bleach in order to get a medevac to a hospital in the United States, thereby achieving "dry foot" status. Coast Guard Commandant Adm. Paul Zukunft said that crews reported interdictions where migrants "would threaten to drown a baby if we were to stop them."
Zukunft suggested that the frenzy of crossings was fueled by widespread anticipation that U.S. immigration policy was about to change – a belief that proved correct, despite frequent denials from Washington. "What I suspect led to the initial spike was when we raised the flag in Havana and reopened our embassy and talked about normalizing relations," he said at a conference in November. "And so, if you want to arrive in the United States, you get a visa, you don't arrive feet dry."