Cuba, Alaska and Caribbean Cruise Bookings on the Rise
According to the latest Travel Agent Cruise Industry Outlook Report, Alaska and the Caribbean are currently the hottest destinations for cruise travel, while cruisers also are showing interest in Cuba.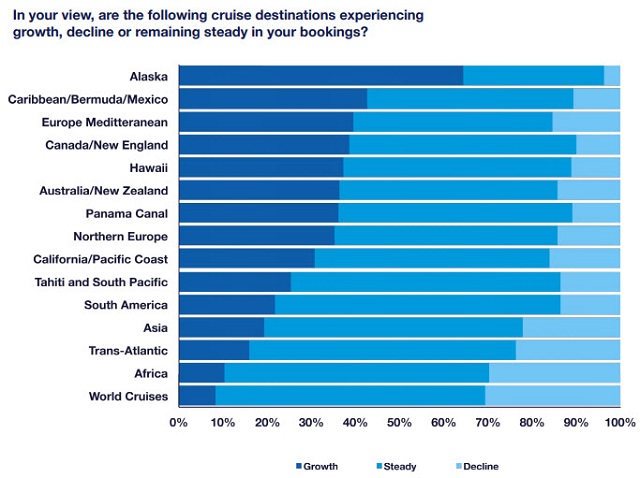 Cruise Lines International Association (CLIA) released the report which also indicates that cruise sales are consistently on the rise for nearly 80 percent agents surveyed when compared to last year. The report also found that the majority of agents are still booking trips to the Caribbean despite the 2017 hurricanes.
Alaska tops the list of popular destinations and is more popular than it was last year. 64 percent of agents say Alaska is a growth market for them right now, compared to 57 percent a year prior. This trend is similar to findings from CLIA's first quarterly global report showing that the volume of passengers traveling to Alaska was up by about 15 percent in 2017.
Over 40 percent of agents reported an uptick in interest among travelers in sailing to Cuba. Why are travelers looking to cruise to Cuba? Nearly half of travel agents say clients are interested in Cuba because it is a new, exotic and mysterious destination. Additional reasons cited to visit Cuba include: immersion in an unfamiliar culture (30 percent) and reconnecting with relatives or friends (five percent). Filling in the generation gap, nearly 70 percent of Baby Boomers show interest in traveling to Cuba followed closely by 58 percent of Gen Xers, 47 percent of Traditionalists and 43 percent of Millennials.
Even though 65 percent of travel agents said that the hurricanes impacted Caribbean business, 86 percent still reported that clients were booking cruises to the region with more than three quarters of travel agents stating clients were taking advantage of Caribbean pricing discounts.
Travel agents have seen consistent sales growth within the last 12 months; over 40 percent noted cruise business is up by more than 10 percent this year. Some factors attributing to the increasing popularity of the cruise industry include: a rise in interest when it comes to river cruising, specifically in Europe; a variety of new ships and constant ship enhancements and upgrades and the ease of travel for multi-generational groups.
Cruise travelers are spending more money. Around 80 percent have increased their vacation spending compared to last year.
The full report is available here.