Cruise Fleet Converges on Cadiz for One-Day Meetup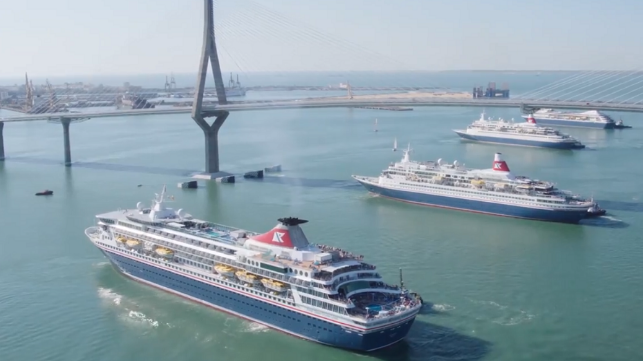 Last week, all four of Fred. Olsen Cruise Lines' vessels converged on the port of Cádiz, Spain for a one-day meeting. Chairman Fred. Olsen Jr., managing director Mike Rodwell, all eight Fred. Olsen cruise ship captains, and many local dignitaries attended a full day of celebratory events. Guests also had the rare opportunity to tour all four vessels.
The program included a "Siege of Cádiz" treasure hunt, performances from live bands, an inter-ship tug-of-war competition, and an awards ceremony. At 1700 hours, all four ships left Cádiz in procession. The Braemar headed to Southampton, UK; Balmoral and Black Watch departed for Lisbon, Portugal; and the Boudicca headed to Ibiza, Spain.
The cruising home port capital of the world, Miami, routinely hosts up to eight giant vessels at a time. However, the convergence of all of a single line's ships at a port of call - not a home port - is an unusual occurrence.
Fred. Olsen brought its fleet together once before at a 2015 meetup in Bergen. It plans a third reunion in Madiera in 2020.
The Fred. Olsen fleet meets in Bergen, 2015 (Fred. Olsen)