Corsica Ferry Experiences a Birth and a Death in One Crossing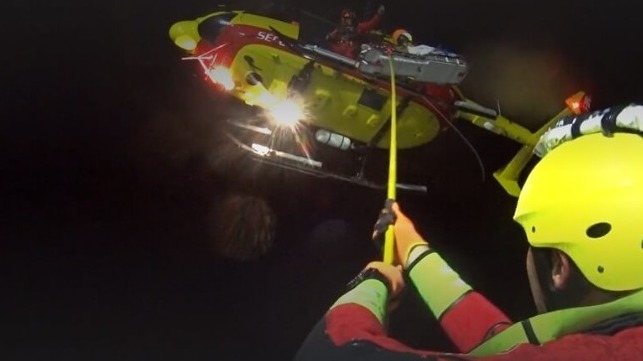 On Monday, local firefighters on Corsica were called out twice in one night to meet the same ferry - first for a birth, then for a death.
At about 2200 hours, firefighters were called to evacuate a woman who was about to give birth aboard the Corsica Ferries vessel Mega Andrea. The expecting mother was seven months pregnant, and the baby would be premature and in need of extra care. The weather was too rough for the ferry to enter port, and it was operating in a holding pattern off the harbor entrance.
Corsica's fire service dispatched a helicopter with a doctor and two rescue swimmers on board, and they made preparations to hoist the woman aboard. Despite severe weather, the medevac was successful.
Ideally, the service would have liked to deliver the patient directly to the Bastia hospital, but the weather was so bad that this was not possible. Instead, she was brought to the Poretta airport, where EMS personnel met the helicopter to conduct a transfer. The mother was transported to the hospital, and the baby was successfully delivered - though it was still in need of medical attention. On Tuesday, the rescue service dispatched another helicopter to the hospital to fly the infant to Nice for advanced care.
La vidéo de l'hélitreuillage d'une femme enceinte à bord d'un navire Corsica Ferries, lundi 28 août vers 22 heures au large de la Corse durant la tempête Réa ?? pic.twitter.com/cdhYdXOY6l

— Corse-Matin (@Corse_Matin) August 29, 2023
This evolution ended well, but the night was not over for the passengers and crew of the Mega Andrea. At 0100, three hours after the medevac, the ferry was unloading at Bastia. A car that had just driven off the ship went off the pier and into the water in front of the ferry terminal. Security guards from the seaport jumped into the water in an effort to save the car's passengers, and they pulled three from the vehicle alive. The survivors had swallowed saltwater but were otherwise unharmed.
A fourth individual, an older man, did not escape and went down with the car in 30 feet of water. Firefighters arrived on scene shortly after, and they attempted to rescue the last occupant of the vehicle. Divers reached the car and retrieved the man's body at about 0210 hours.
An investigation into the cause of the car accident is under way. In the meantime, the port has called in a psychological support unit to care for employees who may have been affected by the casualty.