Controversial Chinese "Spy Ship" Calls at Durban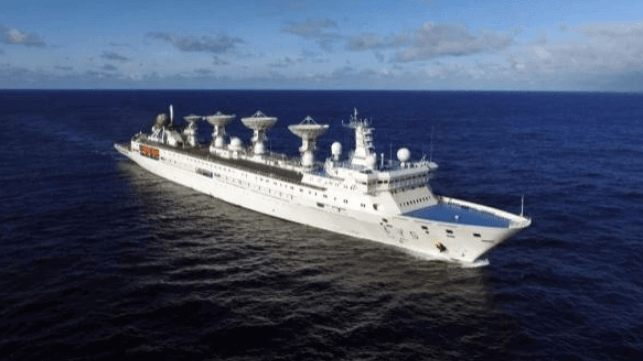 The Chinese satellite tracking and missile telemetry ship Yuan Wang 5 called at the Port of Durban on March 29, the latest in a series of controversial port calls for a vessel with a dual military-civilian role. Her arrival has been interpreted as another sign of South Africa's increasing alignment with Chinese and Russian interests, following a high-profile naval exercise between the three nations earlier this year.
Yuan Wang 5 came a long way for her visit to Durban. She left her berth on the Yangtze in late February and headed south, passing through the Philippine Sea and the Banda Sea before entering the Indian Ocean. After a five-day period of loitering off Western Australia, she got under way for Durban, arriving March 29. She is now under way once more, headed west towards the Atlantic and declaring the "open sea" as her destination.
The vessel is no stranger to controversy. In August 2022, the government of India protested vehemently when Yuan Wang 5 scheduled a port call in Hambantota, the Chinese-operated seaport on Sri Lanka's south coast. India denounced the "spy ship" visit as a breach of its national security interests, warning that it could start a pattern of Chinese naval activity near Indian shores. India and Sri Lanka share a defense treaty that prohibits Colombo from allowing a foreign military to use Sri Lankan ports if the use infringes on Indian security, but after a brief delay, Sri Lanka decided to allow the civilian "research" ship to enter port. Yuan Wang 5 returned to the Indian Ocean a second time in early December, just ahead of a series of planned Indian ballistic missile tests.
The vessel's recent port call in Durban drew criticism from South Africa's opposition Democratic Alliance party. "It's a concern. Why would she dock, and why is she around?" said DA spokesman Kobus Marais, speaking to Bloomberg.
"We don't think further than our noses about future consequences."
Yuan Wang 5's port call overlapped with the arrival of two Iranian Navy vessels, the expeditionary base ship Makran and the frigate Dena, at the Port of Cape Town. On their arrival, Iranian ambassador to South Africa Mehdi Aqa Jafari said that the call "indicates the high level of relations between the two countries and will greatly help to further strengthen cooperation between both sides' navies."
The arrival of Iranian warships in South Africa drew criticism from the U.S. embassy, which warned that "entities and individuals that provide support, including maritime services to designated entities could be subject to sanctions risk under US authorities."