Controversial Barge for Migrant Housing Arrives in UK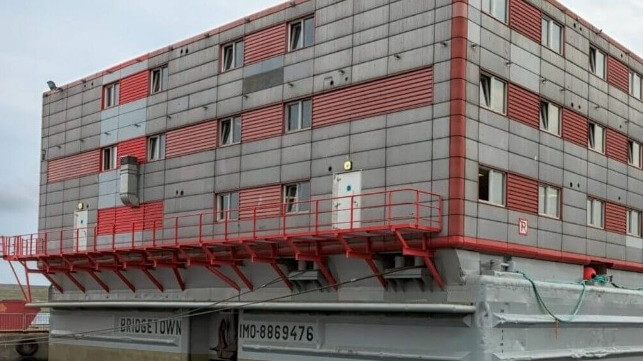 An aging accommodations barge has arrived in Falmouth, UK for inspection, and after any needed repairs, it will soon begin housing Channel-crossing migrants as part of a government plan to make emergency housing less welcoming.
The 50-year-old floatel Bibby Stockholm was built to house project workers at undeveloped ports, but in recent years it has been repurposed for temporary housing for the homeless and for asylum-seekers in the EU. Under charter to the UK government, it will be moored alongside in Portland Port, Dorset, where it will house up to 500 single male migrants at a time.
The local government in Dorset is concerned that the presence of this many migrants in a concentrated facility will require extra policing, and local officials have asked the Home Secretary for funding to cover the additional law enforcement costs. Some officials are altogether opposed to the idea of locating the barge in their harbor.
"We still have serious reservations about the appropriateness of Portland Port in this scenario and we remain opposed to the proposals," Spencer Flower, leader of Dorset Council, told Express. "We still have unanswered questions which we are waiting for the Home Office and the barge operator to respond to."
???? WATCH: The barge set to house hundreds of #asylum seekers off the #Dorset coast has arrived in #Falmouth for fitting.

It has been met by criticism from campaigners… but the Home Office says it's significantly cheaper than hotels pic.twitter.com/5jYvmB9Cdy

— Cornwall's Pirate FM (@piratefm) May 9, 2023
The barge has enough space to house about one percent of the 50,000-plus asylum seekers currently staying in hotels across the UK. The $7.5 million-per-day cost of these hotel rooms has prompted the government to look for cheaper (and less attractive) alternatives.
"Being housed in a hotel with all the amenities that that gives is not appropriate for people coming here illegally. . . . We must end, if you like, this perverse incentive through the hotels and in a broader sense the hospitality that this country gives [to migrants]," UK Justice Minister Dominic Raab said in March.
The previous administration of former Prime Minister Boris Johnson considered cruise, ferry or barge accommodations for migrants in 2022, but set the plan aside when officials warned that it could be costlier than hotels. In addition to the charter costs, port fees and security could impose additional expenses, according to Bloomberg. (Dorset is said to be in line to receive about $4,000 per migrant housed aboard Bibby Stockholm.)
Despite these concerns, more barges are coming to other UK ports soon, the Home Office told media on Monday. In the long term, the government hopes to pass legislation allowing expedited removal of asylum seekers to willing third countries; Rwanda has agreed to be an early participant in the program.