Container Feeder Tries Bunkering with Vegetable Oil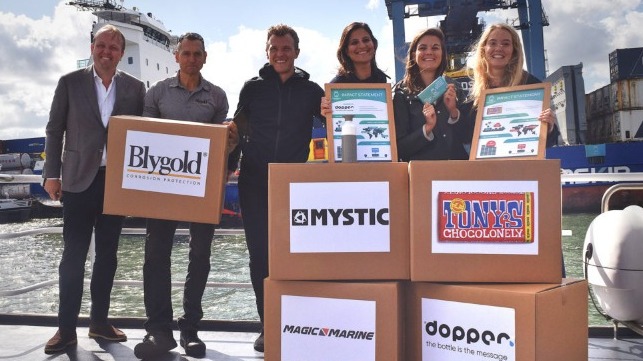 Low-carbon shipping group GoodShipping has announced its first carbon-free shipment - a voyage of the container feeder Samskip Endeavor fueled by vegetable oil.
Prior to the voyage, the Endeavor took on 22,000 liters (about 20 tonnes) of hydrotreated used cooking oil provided by GoodFuels Marine. This amount corresponds to the annual marine fuel consumption of five of GoodShipping's ocean freight customers - Tony's Chocolonely, Dopper, Blygold, Magic Marine and Mystic. The voyage will offset all of their carbon emissions from shipping for one year, without requiring them to make special arrangements for each shipment.
Blygold, which provides HVAC services, said that this was a great way to reduce environmental impact without interfering with business operations. "For a company like Blygold, where we work with freight forwarders for shipping our sea freight, it has always been difficult to minimize the impact of that part of our supply chain. GoodShipping makes this possible, with an easy and adaptable solution," said Maarten van der Meer, Managing Director at Blygold International.
All together, GoodShipping says that this vegetable-bunkered voyage avoided over 40 tons of CO2 emissions and significantly reduced other local emissions, like sulfur and particulate matter. The firm says that it's quite possible for other shippers to join in on future sailings and fully offset their emissions too.
Waste vegetable oil comes from restaraunts (which generate used cooking oil) and from food processing byproduct streams. It can be treated and burned in diesel engines and boilers, but it is also used industrially to make soap, glycerin, animal feed and other products. Its global supply is limited relative to the demand of the overall transportation fuels market, which measures in the billions of tonnes of petroleum per year.