Construction Begins on New Class of MSC Cruise Ships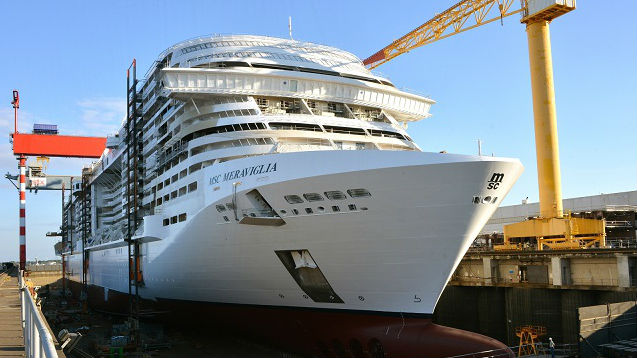 STX France has started construction on two next-generation ships for MSC Cruises. They are the largest ships ever built for a European cruise line and the second largest globally and will be delivered in October 2019 and September 2020, respectively.

The ships are Meraviglia-Plus-class, and up to eight more ships are planned to be built in France at STX through until 2026 as part of an €9 billion ($9.4 billion) investment plan.

The vessels are 331 meters (1,086 feet) long and will be capable of calling at all world cruise ports. The two ships' interior 111-meter (364-foot) long promenade will feature an LED sky screen ceiling measuring 95 by six meters (312 by 20 feet), beaming out visual events and vistas around the clock to create a unique atmospheric experience for guests.

The vessels will also feature a unique cultural experience for guests at sea, with the first-of-its-kind classic and contemporary fine art museum.

Additionally, they will feature the latest STX France's Ecorizon energy management tool and other environmental technologies to ensure that air emission levels that are already in line with all upcoming 2020 regulatory requirements.
MSC Cruises held a traditional steel cutting ceremony at STX France in Saint Nazaire in November to mark the official commencement of construction of MSC Bellissima, the second of the Meraviglia class ships that will come into service in 2019. With a gross tonnage of 167,600 GRT and total capacity for more than 5,700 guests, the MSC Meraviglia is currently the largest vessel in MSC Cruises' fleet.
MSC Cruises' is expected to triple its capacity over the next ten years.

Delivery Schedule for MSC Cruises' Meraviglia and Meraviglia-Plus cruise ships:
• May 2017: MSC Meraviglia
• March 2019: MSC Bellissima
• October 2019: Meraviglia-Plus 1 (name still to be announced)
• July 2020: Meraviglia-Plus 2 (name still to be announced)