Coast Guard Offloads Cocaine Worth $260M in San Diego
On Tuesday, the U.S. Coast Guard cutter Steadfast capped its latest patrol in the Eastern Pacific with the delivery of 7,800 kilos of cocaine at San Diego's 10th Avenue Marine Terminal. The haul came from two interceptions conducted by the crew of the Steadfast and two by the crew of the cutter Alert.
"I continue to be impressed by the dedication and tenacity of the crews aboard our cutters and the difficult, dangerous missions they perform," said Cmdr. Alain Balmaceda, commanding officer of the Steadfast. "Their hard work means two things. First, more than eight tons of cocaine won't reach our streets and add to the drug-related deaths and health problems facing our nation. And second, hundreds of millions of dollars are being denied to transnational criminal organizations who spread instability, death and despair wherever they operate."
The Steadfast's haul included a seizure of more than 5,000 kilos from a single panga, the largest shipment intercepted on one boat since March 2016 (and the largest amount intercepted on a panga in more than a decade). The boat in question managed to lighten its load and escape in a high speed chase, but the Steadfast's crew picked up the bales that the smugglers threw over the side (image below).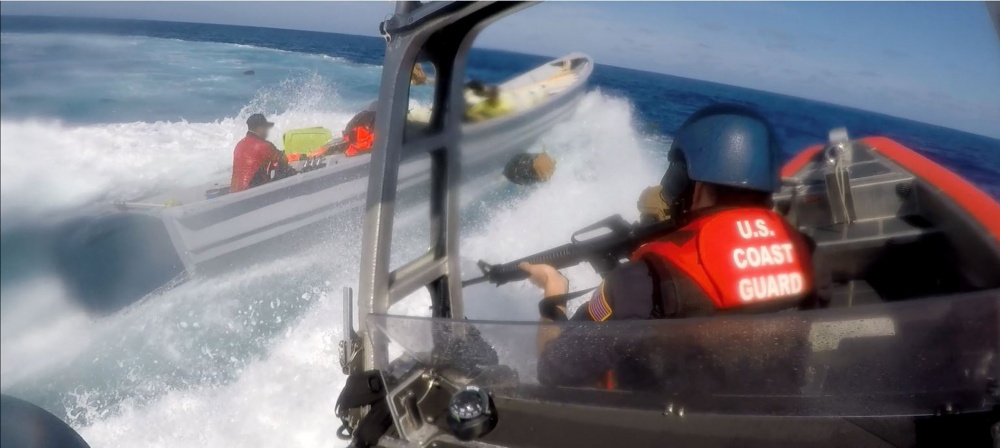 Interdiction team from the Steadfast pursues a suspect vessel as it lightens its load of suspected cocaine (USCG)
The fight against smuggling and transnational organized crime in the Caribbean and Eastern Pacific depends upon an international, inter-agency partnership. The Departments of Defense, Homeland Security and Justice work with law enforcement and military agencies throughout the region to spot and interdict smuggling boats, and have developed a high success rate for detection. However, the interdiction rate for known smuggling activity is low - about 20-25 percent - due to a shortage of patrol vessels and aviation assets. Still, despite the fact that three out of four known smuggling shipments pass by, the Coast Guard seizes more cocaine than all onshore law enforcement agencies in the United States combined.
A recent review by Williams, Adley & Co. notes that the U.S. Navy has not provided the Coast Guard anti-drug effort with significant support from its flight-deck equipped vessels, thereby decreasing the availability of interdiction assets in the transit zone. U.S. Southern Command has requested the deployment of the lightly-armed, high-speed Littoral Combat Ship variants to support the effort. "LCS capabilities match our mission requirements perfectly, and we are working closely with the Navy to try and field them in our region," said Southcom commander Adm. Kurt W. Tidd in testimony earlier this year. "My view is that the sooner we can deploy these ships in theater, the greater the impact we can have on interdicting the flow of illicit drugs into our country."