Coast Guard, Navy Prepare for Hurricane Florence Response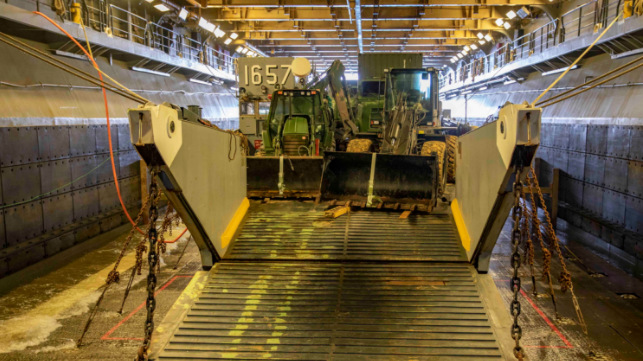 In preparation for the response to Hurricane Florence, which made landfall in North Carolina Friday morning as a Category 1 storm, the U.S. Navy and Coast Guard have pre-staged rescue assets within reach of areas that are likely to face the brunt of the damage.
These assets include:
- six Coast Guard shallow water rescue boat teams staged in North Carolina, with 48 people and 19 boats.
- Coast Guard search and rescue aircraft staged in Savannah, Georgia; Elizabeth City, North Carolina; Clearwater, Florida; and Atlantic City, New Jersey, awaiting safe operational conditions before beginning rescue missions
- Other Coast Guard units, including small boat stations, are staged and awaiting safe operational conditions to begin search and rescue.
"Once weather subsides and conditions become safe for first responders, we will begin search and rescue, focus on environmental impacts and begin the process to re-open our ports," said the USCG's North Carolina incident commander, Capt. Bion Stewart. "If you find yourself in a life threatening emergency, we ask you to call 911 for assistance."
The U.S. Navy amphibs USS Kearsarge and USS Arlington are also standing ready to assist the responsd, and they are carrying embarked elements of the 22nd Marine Expeditionary Unit (MEU). These forces are capable of providing medium and heavy lift air support, search and rescue, maritime civil affairs, maritime security and expeditionary logistics support. The ships are also carrying Disaster Recovery Teams from Construction Battalion Maintenance Unit 202, which are able to provide damage assessments and conduct route and debris clearance.
The 22nd MEU includes nearly 800 Marines, six MV-22 Ospreys, three CH-53 Super Stallion helicopters and three UH-1Y Super Huey helicopters, as well as ground vehicles, generators and other expeditionary equipment. USS Kearsarge and Arlington bring additional Navy assets, including four MH-53 Sea Dragons, six MH-60 Sea Hawks and three ship-to-shore landing craft.
"The Navy and Marine Corps team are here and ready to support [FEMA]," said CTF-89 Commander Rear Adm. Brad Skillman. "This is a team effort – we're prepared to move into position when requested to provide life-saving and life-sustaining support to those in affected areas."
The strike group is no stranger to emergency response efforts: USS Kearsarge provided logistics support and aid teams in the U.S. Virgin Islands and Puerto Rico after Hurricanes Irma and Maria.