CMA CGM Orders Two LNG RoPax Ferries for La Méridionale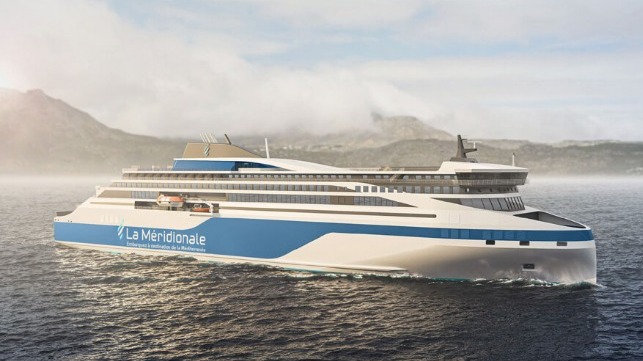 Plans are moving to build new RoPax ferries for La Méridionale, the French ferry operator purchased by CMA CGM Group. Acquired in June 2023 as part of an effort to diversify the operations of CMA CGM Group, they have carried out an order to build two luxurious and environmentally friendly vessels to modernize the operations to Corisa.
La Méridionale unveiled the design reporting that the two vessels will be introduced in the first quarter of 2027. They had previously reported that the plan was to replace the company's older ships with newer vessels. The company runs 13 weekly crossings between Marseille and two ports on Corsia, Ajaccio and Porto-Vecchio, as part of a contract with Corsia. They also operate since December 2020 six weekly crossings between Marseille and Tanger in Morocco.
They have four vessels, the oldest being the Kalliste (30,700 gt) built in 1993 with a capacity of 500 passengers and cargo. The Pelagos (21,850 gt) was built in 1997 and is mostly a cargo vessel with a capacity for just 270 passengers. The newer vessels are the Girolata (28,400 gt) built in 2002 with a capacity for 650 passengers and cargo and the Piana (42,180 gt) built in 2011 with a capacity for 750 passengers and cargo.
The two new vessels will be larger with a capacity each of 1,000 passengers. They will be 590 feet in length with more than 2,000 linear meters for rolling freight. Like the company's current ships, the two new ferries will be registered in France.
In addition to expanding the capacity on the route, the company will continue its efforts to reduce the environmental impact by adopting LNG as the primary fuel for the new ships as well as preparing them to operate on alternative fuels such as biogas and synthetic methane, when it becomes available. They will have two 10.5 MW electric propulsion motors and optimized 5-blade propellers. Other energy-saving features include an optimized hull design, heat recovery systems, and energy optimization for the cabins.
"With the support of its new shareholder, CMA CGM, La Méridionale is building a new chapter of its history," said Jean-Emmanuel Sauvée, President of La Méridionale, announcing the new designs. "This order demonstrates our unwavering commitment to serving Corsica as part of our Public Service Designation, our desire to offer modern and unique experience to our customers, and our commitment to limit our environmental footprint."
The company says the unique design will "reinvent the crossing" between the French mainland and Corisa, a popular vacation destination. They are using design firms well-known in the industry with the interiors designed by Jean-Philippe Nuel and Sterling Design. The vessels will have 264 passenger cabins available for the 12-hour trip and include seven different styles of cabins with a capacity of between two and four people. The accommodations will include 21 cabins with balconies.
CMA CGM completed the acquisition of the ferry company in June 2023 promising to build new vessels and upgrade other parts of the operations. The shipping giant also made investments in Brittany Ferries and recently moved to start operations chartering car carriers. CMA CGM is also an investor in NEOLINE, a Nantes-based company that last week started construction of the first sail-powered ro-ro vessel.