Chinese Port Trials Autonomous Tractor-Trailers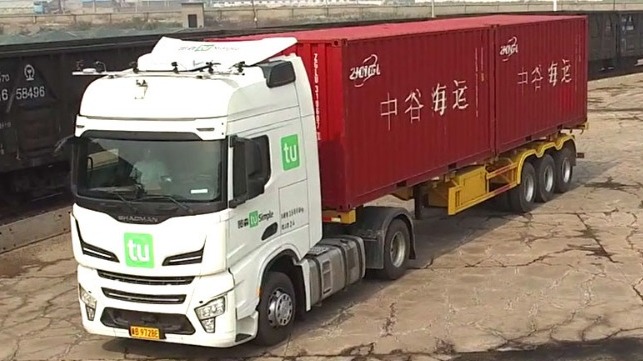 Chinese robotics company TuSimple plans to use port automation as a proving ground for over-the-road autonomous trucks. By the end of this year, it will have 20 of its self-driving vehicles carrying containers around the port of Caofeidian, China.
Caofeidian, a district of the city of Tangshan, is best known as a bulker port and the home of an abandoned eco-city project. It is also home to a 300,000 TEU container terminal - not a giant facility, like Yangshan or Tianjin, but large enough that TuSimple can test its technology in a realistic environment.
Many other terminals - for example, TraPac at the Port of LA, Maasvlakte 2 in Rotterdam and Yangshan Phase 4 in Shanghai - already uses robotic trucks to carry containers within the bounds of the facility site. In addition, Singapore is already trialing semi-autonomous truck "platooning," with one human-operated vehicle ahead and several self-driving trucks following closely behind. However, Caofeidian may be the first port to test fully self-driving, over-the-road truck systems.
TuSimple, which has offices in both China and the United States, is developing self-driving equipment and software that can be fitted onto other manufacturers' tractor-trailer trucks, and it is focused on level 4 autonomy during highway driving. This means that the self-driving system handles most "dynamic driving tasks" independently once it is on a controlled-access freeway, with the exception of extreme weather conditions and other unusual circumstances.
TuSimple has already been testing its system on the island of Caofeidian, working initially with weights rather than real cargo. Once it perfects its system, it hopes to roll out self-driving trucks on American roadways: the firm's Vice President of Product, Chuck Price, told The Drive that it hopes to be "driver-out" in select locations in the U.S. in the 2020 timeframe.