Chinese Oil Firms Take 20 Percent Stake in Arctic LNG 2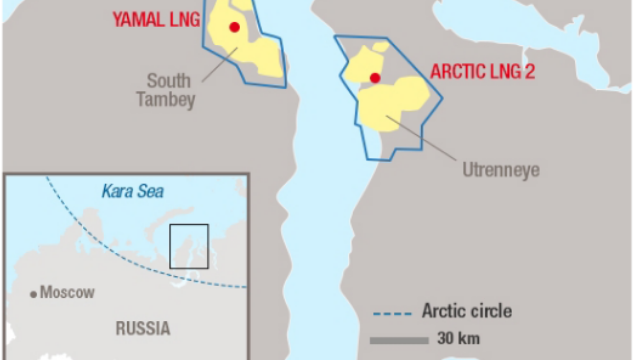 Russian energy company Novatek has signed two agreements giving the Chinese government a 20 percent stake in the new Arctic LNG 2 terminal. At China's Second Belt and Road Forum on Thursday, Novatek announced that state-owned CNOOC has taken a 10 percent stake and state-owned CNPC has taken another 10 percent stake in the project.
"We are very glad that CNOOC has joined our Arctic LNG 2 project as our new partner, since China represents one of the key consuming markets for our LNG sales," said Novatek chairman Leonid Mikhelson in a statement. "Arctic LNG 2 will be a game-changer in the global gas market, and our proven track record to successfully build an LNG facility in the Arctic zone, combined with a proven logistical model . . . will ensure the successful implementation of this world class project".
Arctic LNG 2 is adjacent to Yamal LNG, Novatek's recently-completed gas export plant on the Gulf of Ob. The new terminal will draw on a different set of natural gas reservoirs and will be built in a different manner: rather than modular construction, Arctic LNG 2's design calls for three 6.6 mtpa liquefaction trains to be built on gravity-based structures, which will be floated into place and partially sunk to rest on the bottom. Novatek says that the site's proven gas reserves total to 1.1 billion cubic meters, and it is actively exploring for additional new gas finds in the area.
Like Yamal, Arctic LNG 2 will rely on a fleet of specialized icebreaking LNG carriers to deliver cargoes through Russia's Northern Sea Route. The business plan calls for westbound shipments in the wintertime and, when ice conditions allow, eastbound shipments to Asian markets in the summer.
Early this month, Novatek announced the signing of a non-binding sales and purchase agreement with Repsol for a fraction of Arctic LNG 2's production. If fulfilled, the initial deal would see Repsol purchase one mtpa out of the site's 20 mtpa total capacity (and from other Novatek plants) for a period of 15 years.
"The agreement [with Repsol] would allow us to increase our market presence on the Iberian Peninsula where Russian pipeline gas is not supplied," said Novatek first deputy chairman Lev Feodosyev.
Energy trading firm Vitol also signed for one mtpa from Arctic LNG 2, with delivery via transshipment terminals in Murmansk and Kamchatka. The terminals, which have backing from French oil major Total, would improve utilization of the project's high-value icebreaking LNG carriers.