China Tries to Block Carbon Levy, Net-Zero Pledge at IMO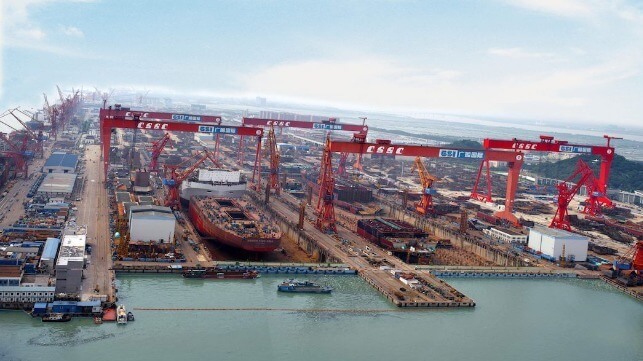 The Chinese government - the world's biggest shipowner - is working to block attempts to bring shipping into alignment with the Paris Climate Agreement, according to a diplomatic note obtained by the FT and Reuters.
In an appeal circulated to developing-nation member states, Beijing described the goal of zero lifecycle GHG emissions by 2050 as an "unrealistic vision" pushed by "developed countries."
"An overly ambitious emission reduction target will seriously impede the sustainable development of international shipping, significantly increase the cost of the supply chain and will adversely impede the recovery of the global economy," China's memo warned.
Instead, it called for a less ambitious target: net zero emissions around mid-century. "Net zero" would allow continued fossil-fuel emissions after 2050, so long as they are offset elsewhere, while the stricter "zero lifecycle" emissions standard would require zero-carbon fuels. "Around mid-century" would align with China's broader decarbonization pledge, which promises a national transition to zero emissions in 2060, 10 years after the Paris Agreement target.
In the memo, China also objected to proposals for a carbon levy, which most industry insiders and researchers believe is a necessary requirement to make zero-carbon fuels viable. A levy "will lead to a significant increase in maritime transport costs," Beijing noted. The memo goes on to claim that an increase in shipping cost is the true purpose of the levy, which is (China claims) "a disguised way by developed countries to improve their own market competitiveness." (China denies that it is a developed country, though it has the world's largest consumer economy.)
As the owner of the world's largest shipping company by tonnage, China COSCO, and the world's biggest shipbuilding company, CSSC, the Chinese government has a larger stake in the shipping industry than any other entity, individual or company. It also benefits from the world's largest export economy, which would be less competitive in distant markets if a carbon levy raised shipping costs.
In a press conference Monday, Chinese foreign ministry spokesman Wang Wenbin would not confirm or deny the memo's authenticity.
"China highly values and actively supports IMO's efforts to address climate change. China believes that in carrying out relevant work, the IMO should follow the principle of common but differentiated responsibilities, take into consideration different national conditions, accommodate the legitimate concerns of developing countries, and promote the formulation of a fair and practical greenhouse gas (GHG) emission reduction strategy and relevant measures for the international shipping industry," said Wenbin.