Photos: Chinese Flotilla Gathers Off Philippines' Pag-asa Island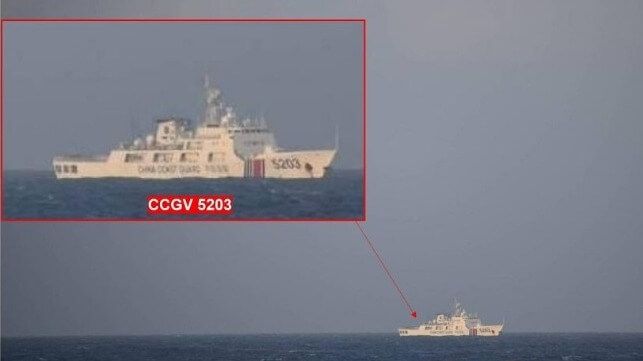 The Philippine government maintains a substantial outpost at Thitu Island (or Pag-asa Island), including a small harbor, beaching ramp and airstrip. It is the administrative center for all Philippine-claimed territory in the Spratly Islands, and it is the linchpin for Philippine operations in the contested area. On Saturday, the Philippine Coast Guard reported that a flotilla of more than 40 Chinese vessels have anchored just offshore of Pag-asa, including a PLA Navy vessel and a China Coast Guard cutter.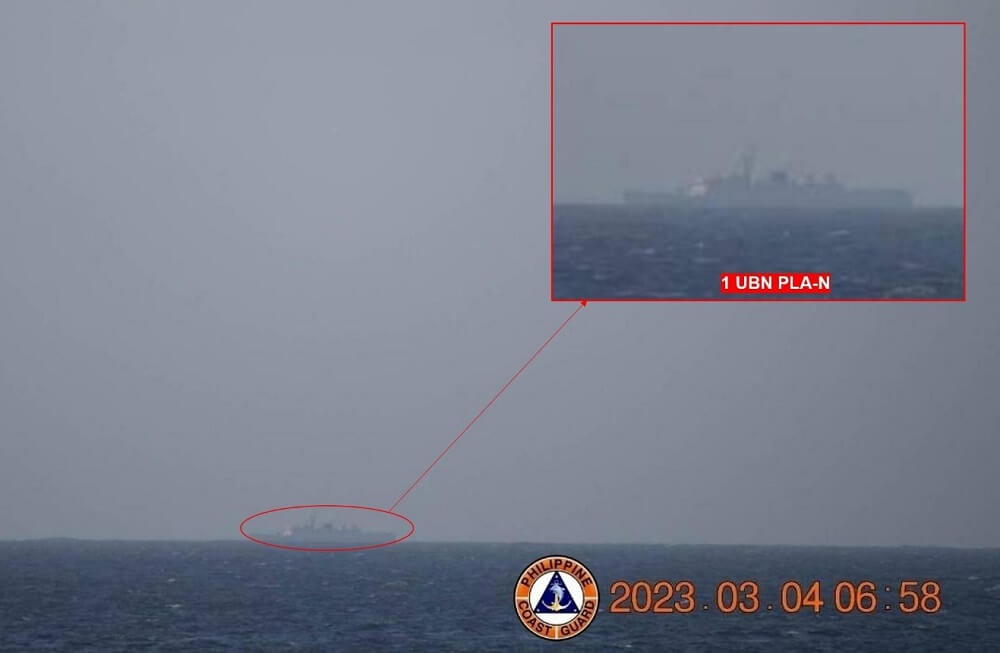 Unidentified PLA Navy vessel off the coast of Pag-Asa (PCG)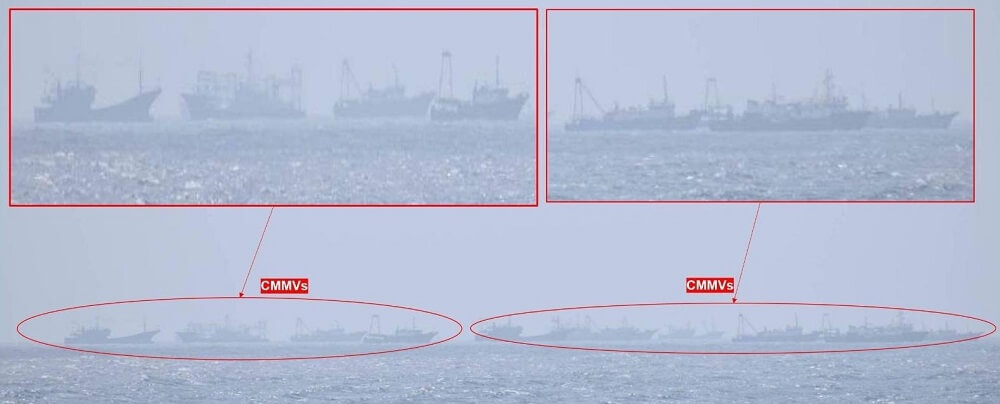 Chinese maritime militia vessels off Pag-asa (PCG)
This kind of show of force has been seen at Pag-asa before. In 2018-2020, an average of at least 18 Chinese maritime militia vessels loitered offshore every day, often escorted by a CCG cutter. In this time period, the Philippine government was conducting construction on Pag-asa to improve boat landing facilities and repair its runway, and China had signaled that it opposed the project.
This time, China dispatched an unnamed PLA Navy vessel and China Coast Guard hull CCG 5203, the same vessel involved in a standoff over crashed rocket debris late last year. These official government vessels were accompanied by 42 Chinese maritime militia "fishing" vessels, all located about four to eight nautical miles from Pag-asa - well within the Philippine territorial sea limit.
5 March - A day after @coastguardph released its superb photos, #China Coast Guard 5203 (largest ship, bottom center-left) remains ~3nm from the #Philippines-held Pag-Asa (Thitu) Island together with ~40 maritime militia ships (only 1 of which can be seen on AIS).
Image: @planet pic.twitter.com/0ScXWxUAlY

— Ray Powell (@GordianKnotRay) March 6, 2023
LOOK: A China Coast Guard vessel spotted last March 4 within the surrounding waters of Pag-asa Island with a distance of 4 nautical miles, or inside the island's 12 nautical mile territorial sea. | via @jacquemanabat

???? @coastguardph pic.twitter.com/FitaojzEI8

— ABS-CBN News (@ABSCBNNews) March 5, 2023
Satellite imagery obtained by Planet Labs on Sunday confirmed that a substantial fleet of vessels is anchored to the west of the island.
In a statement, the PCG characterized the fleet's presence as "clearly inconsistent with the right of innocent passage and a blatant violation of the Philippines' territorial integrity." The service pledged to continue operations in the Spratly Islands despite the latest efforts at intimidation.
The incursion is part of a longstanding pattern of Chinese behavior in the South China Sea, which the Philippines has recently decided to highlight and publicize. By photographing and reporting incidents of harassment and intimidation, Manila hopes to put pressure on Beijing to make changes. The campaign comes just ahead of an upcoming series of talks on an ASEAN "code of conduct" for maritime opeations in the South China Sea, to be held in Jakarta next week.
China is investing heavily in naval capability and is expected to have a fleet of 400 warships within a few years' time. On Sunday, Chinese Premier Li Keqiang exhorted all branches of the PLA to "carry out military operations, boost combat preparedness, and enhance military capabilities" in line with China's goals for the year 2027, the 100-year anniversary of the formation of the People's Liberation Army.