Chinese Bulker Banned for Year from Australia Due to Seafarer Mistreatment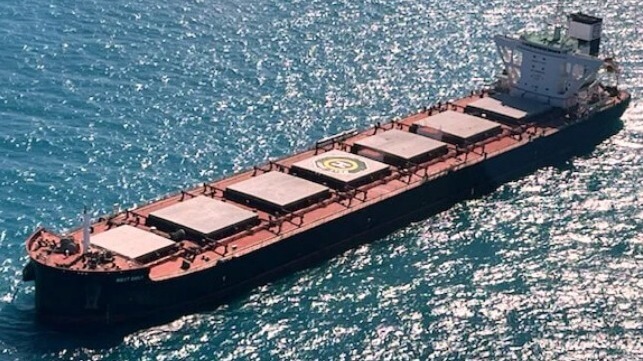 The Australian Maritime Safety Authority (AMSA) issued one of its stiffest penalties banning a Chinese-owned and managed bulker from Australian waters for one year after inspectors found "apparent serious issues of mistreatment and wage theft from seafarers" working aboard the ship according to the authority. It is part of an ongoing stringent enforcement effort by AMSA to ensure safety issues and seafarer welfare on ships calling in Australian waters.
So far in 2023, AMSA has issued six refusals of access determinations although the five prior vessels were all related to maintenance issues. The Australian authority has increased the number of bans from two in 2022 and four in 2021 as it seeks to ensure proper standards are being upheld. Over the past decade, their website lists 32 ships that have been refused access.
The most recent case involved the Liberian-flagged bulk carrier MSXT Emily. The 85,267 dwt bulk carrier was built in 2022 and is listed as being owned by a Chinese company Fortune Equity Carriers and managed by another Chinese company, MSM Ship?Management Pte Ltd. The vessel was operating under charter to "K" Line of Japan and headed to Australia to load a cargo of coal.
The ship arrived at the Port of Hay Point on August 7 according to its AIS signal and was inspected by AMSA after receiving a "tip-off" from the International Transport Workers' Federation (ITF). According to AMSA, the investigation revealed widespread cases of violation of seafarers' rights, including instances where seafarers onboard the vessel had not been paid in accordance with their contracts.
"The workforce conditions onboard this vessel are a disgrace, and AMSA will not tolerate this in Australian waters," said Michael Drake, AMSA Executive Director of Operations. "Wage theft, forgery, and coercion are serious matters, and I have been deeply troubled to hear of the conditions on the MSXT Emily."
AMSA said its inspectors found evidence that more than US$77,000 in unpaid wages was owed to seafarers working onboard Emily, with the ship's Chinese operators attempting to pay the amount owed once they were aware that AMSA inspectors were onboard. AMSA accused the vessel's operator of appearing to have concealed repeated cases of wage theft.
A further investigation revealed evidence according to AMSA of additional labor contract violations. They reported that there were apparently forged signatures from employees on contracts and that five seafarers appeared to have been coerced into signing new employment agreements that had lower salaries. In one case, AMSA said a seafarer had signed a new contract for 50 percent less pay while the individual still held a contract valid for a further four months.
AMSA thanked the ITF for bringing the matter to its attention. The authority, which has banned several vessels from accessing Australian ports and given warnings to others concerning deficiencies, highlighted that the one-year ban was necessary to send the message that seafarer welfare should be a priority for every shipping operator.