China Trials LNG Tank Shipment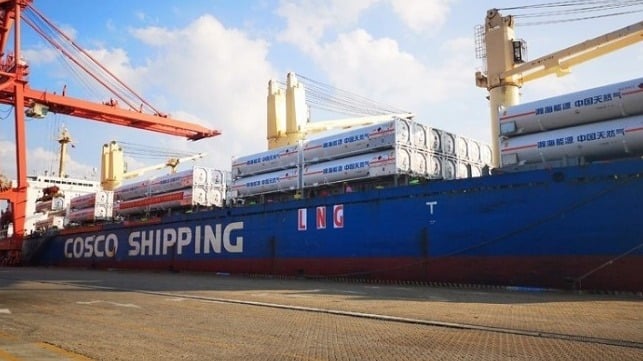 A feeder container ship loaded with 130 LNG tank containers sailed northward from the Port of Yangpu of Hainan Province to the Port of Jinzhou in November.
The shipment of 25,000 cubic meter containers was the country's first attempt to transport surplus capacity to the north via LNG tank containers as a way of satisfying winter demand for heating.
The tighter availability of natural gas faced by a large part of China last winter and this spring revealed the country's lack of natural gas storage ability, a problem expected to become worse as China's demand for natural gas increases.
According to Wood Mackenzie, China's LNG imports are forecast at nearly 50 million metric tons in 2018, an increase of 12 million tons over 2017. The International Energy Agency indicated in Gas 2018 that China will become the world's largest importer of natural gas by 2019, and by 2023, it will import 171 billion cubic meters of natural gas, with LNG accounting for more than 50 percent of the total imports.
In recent years, the Chinese government has been accelerating construction of the natural gas production, supply, storage and marketing system to meet its rising demands for natural gas and alleviate growing natural gas shortages. The trial was approved by China's National Development and Reform Commission, National Energy Administration and Ministry of Transport, and the 130 LNG tank containers were developed and manufactured by CIMC ENRIC.
"Previously, LNG was merely used for the purpose of peak load adjustment in China; today, it is considered as one of major gas sources due to the tighter natural gas supply." said Yongsheng Xu, General Manager of Nantong CIMC Energy Equipment. "This is good. However, most of the LNG infrastructure with terminal stations as the core is distributed in the southern part of China, such as Hainan Province, Shenzhen Municipality and Guangxi Zhuang Autonomous Region. This can only help a little in alleviating natural gas shortages in the heating season in the country's northern part. Therefore, the south-to-north natural gas transportation means a lot for China, and it is a strategically important link in building the natural gas production, supply, storage and marketing system."
To transport natural gas from south-to-north, there are two options: the commonly used pipelines and the popular non-pipeline model from the central and western parts of China.
"Though the existing pipelines and tank cars have played important roles in south-to-north natural gas transportation, they cannot yet fully handle the surplus capacity of terminals in the southern part of China," said Xu. "The transportation of LNG via tank containers is an innovative way and effective supplement to natural gas transportation. It is flexible, quick and a low-cost investment with short-term gains. Once the rail-sea-road-rail transport achieves significant breakthroughs, it will have more potential."
Xu says the LNG tank container transportation model can be extended to railway, road and water transportation to achieve the door-to-door supply from terminals to users.