China's Navy Recruits First Female Pilots for Carrier Aviation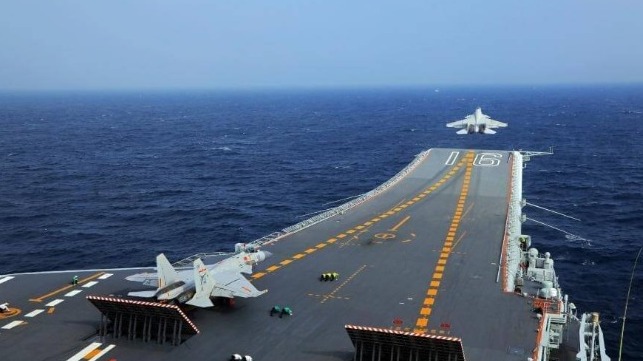 China's PLA Navy is recruiting female pilots for its carrier aviation program for the first time, the service announced last week.
The PLA Navy has a strong need to attract skilled, tech-savvy personnel to its modernizing fleet, and it has a specific need to develop a pool of carrier-qualified fighter pilots. China's carrier aviation program has been conducting launch and recovery at sea since 2012, and it is rapidly expanding. Naval shipbuilder CSSC is about to deliver the nation's third carrier, and the growing flat-top fleet could reach half a dozen hulls by the next decade. According to state-owned Xinhua, the recruitment and training of carrier-based pilots is "increasingly urgent."
During this year's recruitment cycle, the PLA Navy will be allowing students from civilian colleges to apply for and join the training program for the first time. Historically, the carrier pilot program was restricted to graduates of China's military service academies. In addition, the program will be accepting its first female trainees.
Qualified candidates must be under 24, unmarried, free of tattoos and loyal to the Chinese Communist Party. Their entire family must have a clean disciplinary record.
"We invite young men and women who are enthusiastic about national defense, love the airspace and sea and have the necessary qualities to take part. Those future pilots will play their part in building a world-class navy and realizing the great rejuvenation of the Chinese nation," the PLA Navy announced in a statement.
The selection process for applicants involves political background checks, physical fitness tests and flight tests to evaluate their suitability for the program. Successful candidates will attend the PLA's Naval Aviation University in Shandong for 3-4 years of training, putting them on course to graduate in 2026-7.
The U.S. Navy is taking a slightly different approach to augmenting the staffing of its air wings. Beginning in 2025, the USS George Washington will return to Yokosuka to replace USS Ronald Reagan as the forward-deployed carrier in 7th Fleet. This time, according to Nikkei, George Washington will be equipped with unmanned aerial refueling capabilities.
The USN's new Boeing MQ-25 unmanned aerial refueling drone is purpose-built for shipboard service; it entered low-rate initial production in September 2022 and is expected to achieve initial operational capability by 2024. MQ-25 will allow U.S. Navy fighter jets to refuel after launch without tying up any of the carrier's F/A-18 fighters for tanker duty, extending the air wing's range and striking power.