China's Conduct is Driving a Realignment in the Indo-Pacific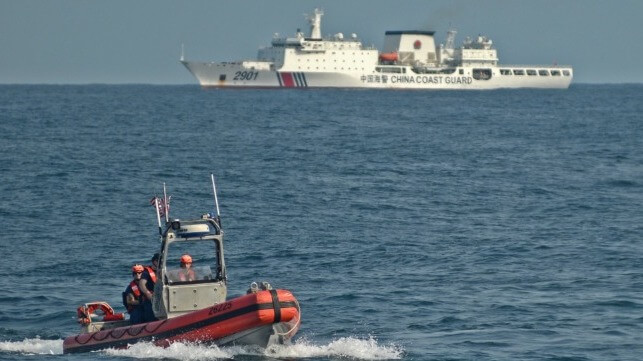 [By Daniel R. Depetris]
On April 3, the Philippines government of President Ferdinand Marcos Jr formally unveiled four additional locations where US forces will be permitted to operate. Two of those locations, in Santa Ana and Lal-lo, are located in Cagayan, the Philippines' northernmost province, approximately 440 kilometers from Taiwan's southern coastline. The announcement occurred two months after Washington and Manila concluded negotiations on the new basing arrangements, which come on top of the five locations the US military already uses. Both sides lauded the deal as an example of a strong US-Philippines alliance. "It seems to me," Marcos said after the talks concluded, "that the future of the Philippines, and for that matter the Asia-Pacific region, will always involve the United States".
It's tempting to congratulate the individual US and Philippine negotiators for this week's news. But China and its President Xi Jinping really deserve much of the credit.
China's conduct in the Indo-Pacific, more than the talent of the US diplomatic corps, Washington's renewed focus on Asia, or Marcos' attempt to make a name for himself, is the biggest motivator for the balancing behavior that can be seen in the region. If it weren't for Beijing's incessant campaign to press its territorial claims on land and at sea, it's highly unlikely new access arrangements for the US would have been discussed.
The Philippines is hardly the only country taking stock of its own geopolitical surroundings.
China's rising power is the fuel driving what can only be described as a rapid transformation in Japan's strategic outlook. Tokyo, careful in the past to ensure that its actions in the defense realm weren't needlessly provocative to Beijing, is today making no apologies for crafting and resourcing a more assertive defense policy. Japan, which for decades kept itself pegged to an artificial one per cent defense spending-to-GDP ratio, aims to double its total defense budget by 2027 – a sum that, if implemented, would make Tokyo the third-largest military spender in the world.
Some of Japan's extra spending will be earmarked for the types of weapons systems – surveillance assets, land attack cruise missiles, anti-submarine warfare capabilities and air defense – that would be critical in the event of a hypothetical conflict with China. Just as important as the numbers and individual investments is the change in attitude the Japanese seem to be embracing. The decision to acquire a so-called counterstrike missile force, first by purchasing US-made Tomahawk cruise missiles and later by fielding an updated version of the indigenous Type 12 Surface-to-Ship Missile system, is both a symbolic and substantive broadening of Tokyo's concept of self-defense.
Japan is not only strengthening its alliance with the United States, but also expanding defense relationships with other countries inside and outside of its immediate region. Much of this movement can be chalked up to China's belligerence. Tokyo has signed several defense cooperation deals over the past year and a half, including with India in September 2020, Vietnam in September 2021, Australia in October 2022, and the United Kingdom in January 2023. Most of these agreements are designed to accelerate the execution of joint training exercises, ease the pathway towards the mutual military deployments, and boost inter-operability between the Japan Self-Defense Forces and its partners. It would not be surprising if similar deals were in the works.
Again, we can thank China for the regional collaboration.
"China's current external stance," the Japanese government wrote in its defense budget overview, "military activities, and other activities have become a matter of serious concern for Japan and the international community, and present … the greatest strategic challenge in ensuring the peace and security of Japan and the peace and stability of the international community".
India, of course, is taking its own steps in response to Chinese military aggression. Clashes with Chinese ground forces along India's disputed Himalayan border, some of which have resulted in Indian military fatalities, have opened eyes in New Delhi to just how far behind the Indian military is in relation to the People's Liberation Army (PLA). While it's true that India can't match China dollar-for-dollar (according to the Stockholm International Peace Research Institute, China's defense budget was nearly four times higher than India's in 2021), it's also true that India's military establishment clearly recognizes the necessity of deeper investments in procurement and readiness.
Approximately 13 per cent of India's entire budget for the current fiscal year is defense-related. India, notorious for avoiding the entanglement of alliances and opposed to bloc politics as a matter of principle, is also more willing to accept intelligence assistance from foreign partners if it's in its self-interest to do so.
Australia is another player in the region that has long since adapted its position towards China. The good old days of unfettered trade and strategic partnership are long gone, replaced by a more independent Australia keen to minimize dependency on China and weld itself ever more closely to the US militarily. Beijing's behavior, particularly its economic coercion against crucial Australian industries such as wine, barley and coal, has merely reinforced the idea throughout Australia's politics that Beijing is no longer a reliable partner. While China-Australia relations are starting to thaw a bit (Australian Foreign Minister Penny Wong traveled to China last year, Prime Minister Anthony Albanese spoke with Xi during last year's G20 Summit in Bali and may visit China himself in the coming months, and Australian and Chinese trade officials met in Beijing this week), Australia is firmly committed to its current path of deepening the strategic alliance with Washington.
Xi Jinping and Chinese Communist Party stalwarts will blame all of these developments on a US-led strategy to surround China, stifle its development, and undermine its power. Xi instead ought to look in the mirror.
Daniel R. DePetris is a fellow at Defense Priorities and a foreign affairs columnist for the Chicago Tribune and Newsweek.
This article appears courtesy of The Lowy Interpreter and may be found in its original form here.