[Photos] China's Aircraft Carrier Drills Near Taiwan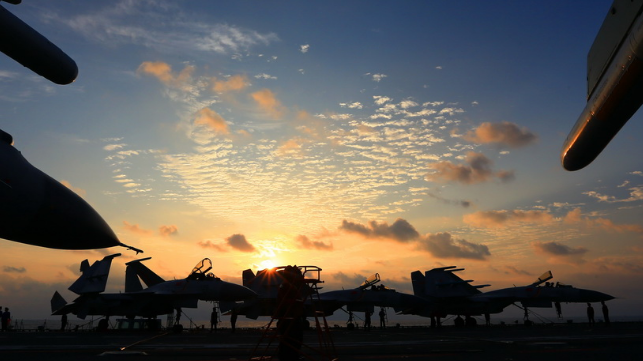 China's carrier battle group, led by the aircraft carrier Liaoning, conducted its first combat exercise in the western Pacific on Friday and Saturday.
Liaoning, several guided-missile destroyers, guided-missile frigates and dozens of aircraft took part in the exercise east of the Bashi Channel, which runs between Taiwan and the Philippines. Gao Zhaorui, chief of staff of the group, said the mission was designed to test the group's offensive and defensive systems and foster the ability of commanders to make decisions when faced with complicated circumstances.
Last Wednesday, the Navy carried out live-fire drills in the Taiwan Strait in what state media said was a response to provocation by Taiwan - having conducted its own drills the day before. Taiwan has called China's drills intimidation. Tension has increased after Chinese President Xi Jinping spoke out last month against Taiwanese "separatism."
"Sending a fledgling aircraft carrier without strike capabilities through the Taiwan Strait contributes nothing of significance in military terms, except exposing Liaoning to additional scrutiny from Taiwan's military surveillance," says Dr Euan Graham Director, International Security Program at the Lowy Institute. "With barely 180 kilometers (112 miles) separating Taiwan from the mainland, the island is already well within the reach of China's land-based offensive and defensive capabilities, many of which are deployed in deliberate proximity."
China is expected to start sea trials of the nation's second aircraft carrier soon. The new domestically-built carrier has a displacement of around 50,000 metric tons and a conventional propulsion system. It will use a ramp to launch fixed-wing aircraft and will carry J-15 fighters and other aircraft.