China Launches Two Guided Missile Destroyers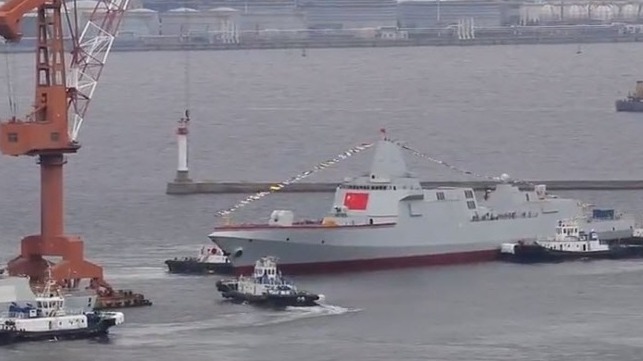 China launched two Type 055 guided missile destroyers in Dalian on Tuesday.
The vessels follow two others launched over the last 18 months, and the People's Liberation Army (PLA) Navy is expected to commission at least 10; another two are already under construction. It is anticipated that the first destroyer will be formally delivered to the PLA Navy by the end of the year after undergoing sea trials.
The multi-role destroyers would be classed as cruisers by the U.S. They are a development of the Navy's Type 052D Luyang III-class destroyers and are about 30 percent larger. They are designed for air defense, anti-missile, anti-ship and anti-submarine warfare and are expected to play an instrumental role in China's future carrier strike formations. The class are one of the first among PLA Navy surface combatants capable of land attack missions. They are anticipated to be armed with electromagnetic railgun technology.
General characteristics
Type: Guided missile destroyer
Displacement: 13,000 tons
Length: 180 meters (590 feet)
Beam: 20 meters (66 feet)
Draught: 6.6 meters (22 feet)
Installed power:
6 × QD-50 turbine generators (5MW each)
Total: 30MW
Propulsion:
COGAG
4 × QC-280 gas turbines (28MW (38,000 hp) each)
Total: 112 MW
Speed: In excess of 32 knots
Range: 7,000 nautical miles
Complement: 310