China Holds Naval Drills in Sea of Japan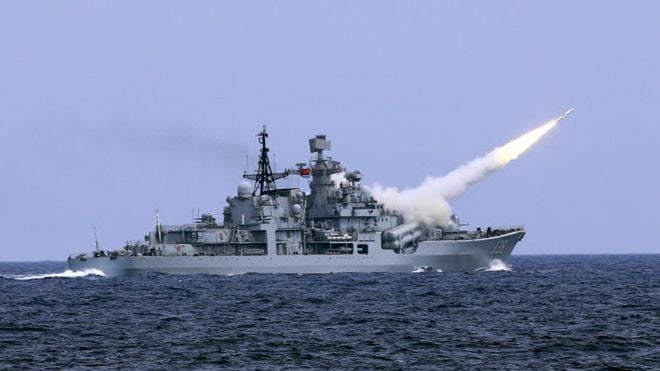 The Chinese People's Liberation Army Navy held a large-scale exercise in the Sea of Japan on Thursday, an unusual move that comes just one week after a confrontation between Japanese and Chinese vessels near the contested Senkaku Islands.
One missile destroyer, two auxiliary vessels and three frigates attended the exercise. Several of the vessels joined the group as part of their return voyage from the international Rim of the Pacific exercises off Hawaii.
"It's very rare for the PLA fleet to conduct solo large-scale drills in the area," said analyst Li Jie, speaking to SCMP.
Jie said that the deployment was a direct response to an increasing Japanese presence in the South China Sea; Japan has been providing military assistance to the Philippines, which recently won an international arbitration case against China over its claims in the Spratly Islands. China has repeatedly rejected the ruling, and it has warned Japan not to interfere in the dispute.
Chinese state media claimed that the military movements were routine. "Exercises far out at sea in international waters are commonly done by navies of the world, and this year our navy has many times organized fleets to carry out exercises far out in the Western Pacific," said the official People's Liberation Army Daily. "This deep sea exercise is part of annual training arrangements, is not aimed at any specific country, region or target, and accords with international law and practice."
The Japan Times translated the PLA Daily's description of the maneuvers as a "confrontation exercise." The Daily said that the vessels divided into two teams and simulated a coordinated air and surface assault, with one side defending and one side attacking.
China has held several military drills in diplomatically sensitive areas in recent months, including a live fire drill in the East China Sea in early August and a joint drill with the Russian Navy in the South China Sea in late July.
Japan is moving to shore up its military presence in the East China Sea with new installations in the Senkaku Islands. Its defense ministry also seeks to increase the military budget by 2.3 percent next year, the fifth successive annual increase sought by the ministry.
"The security environment surrounding Japan is severe, due to neighboring North Korea and China," said Takashi Kawakami, a security expert at Japan's Takushoku University. "I personally think [the increase] is not enough."