Celebrity Cruises Offers Glamping on Top Deck of Flora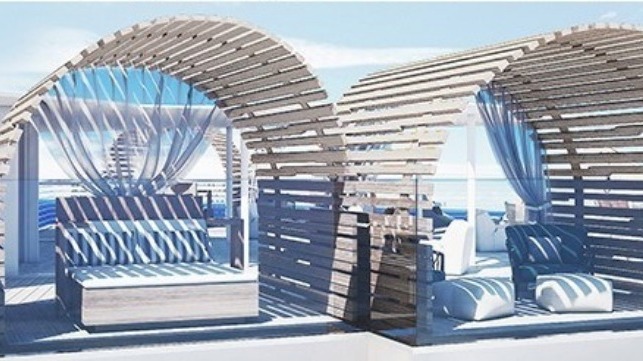 Celebrity Cruises has claimed an industry fist with the introduction of a luxury camping experience "glamping" on the top deck of Celebrity Flora as she sails the Galapagos Islands.
Four guests per night will be able to book the experience which includes participation of a naturalist to highlight the stars and constellations visible in the night sky. Campfire-inspired food are also provided.
Celebrity Flora, being built by Shipyard De Hoop, has been designed to create a sense of being immersed in the destination, rather than just visiting it. As the vessel is expected to be stationary in a bay or near one of the islands for 66 percent of her operational time, considerable thought went into the design and selection of equipment, allowing the ship to perform efficiently under dynamic positioning (DP). Combined with a zero-speed stabilizer system, the DP system will choose a heading to minimize the roll and heave motions on the vessel.
Celebrity Flora also has a sophisticated bow shape featuring a straight, wave-piercing stem, with an integrated bulb at the waterline. This reduces resistance in waves when in transit and saves energy when staying in position, due to a highly efficient short bow thruster tunnel.
Shipyard De Hoop has worked to decrease noise and vibration with floating floors, flexibly mounted equipment and anti-vibration panels in walls and ceilings. The vessel has Comfort Class 1 notation (the highest possible Class notation). Additionally, the ship's superstructure shape was submitted to wind tunnel tests to ensure passengers on deck will not be subjected to exhaust gasses.
Based in Baltra Island in the Galapagos, Celebrity Flora will make her debut sailing on May 26, 2019.
Celebrity Flora
Passengers: 100
Crew: 80
Tonnage: 5,739
Length: 333 feet
Beam: 55.7 feet
Draft: 14.7 feet
Cruise Speed: 14 knots