Carnival Corp. Sells Seabourn Odyssey to Mitsui O.S.K. Lines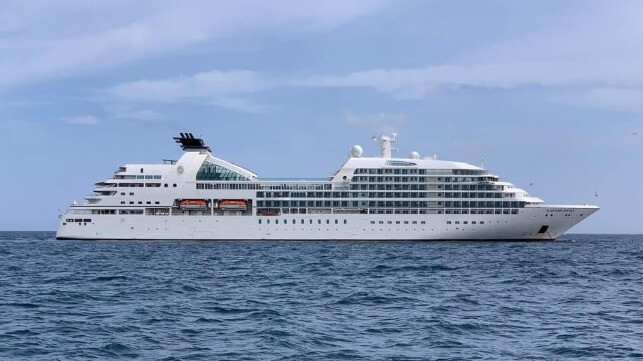 Carnival Corporation's Seabourn Cruise Line in a surprise move today announced that it is selling its 14-year-old cruise ship, the Seabourn Odyssey to Japan's Mitsui O.S. K. Lines. While Carnival had indicated its intent to sell older, less productive ships from the fleet, Seabourn which focuses on luxury cruises and expedition travel had so far been excluded from the sales efforts. MOL had previously said it planned to modernize and expand its cruise operations in Japan.
Built in 2009 by Italy's T. Mariotti, the Seabourn Odyssey was the first of a class of new ships used to modernize and expand Seabourn, a brand launched in 1988 by Norwegian industrialist Atle Brynstad and veteran cruise line executive Warren Titus. Seabourn started with cruise ships accommodating just 200 passengers all in suites as one of the first modern adaptations of luxury yacht-style cruising. Carnival Corporation made an initial investment in Seabourn in 1991 and again in 1996 when they acquired 50 percent of the company. They acquired the remainder of Seabourn in 2001.
At 32,477 gross tons, the Seabourn Odyssey introduced new luxuries to the brand increasing passenger capacity to 458, more than twice the original cruise ships. The larger size permitted the cruise line to offer more amenities including suites with private balconies catching up with a growing field of competitors in the ultra luxury segment. The original cruise ships were sold to Windstar and replaced by the Odyssey along with two sister ships and later two larger, 600-passenger cruise ships built by Fincantieri.
MOL has agreed to charter the Seabourn Odyssey to Seabourn so that the cruise ship will continue to operate all published voyages through August 22, 2024. The cruise ship will be delivered to MOL at the conclusion of the charter and be rebuilt for the Japanese cruise market.
Carnival Corporation reported that it planned to sell three cruise ships in 2023, two from Costa Cruises and the third came from AIDA which in January 2023 announced it was retiring the 20-year-old AIDAaura (42,289 gross tons) which would be offered for sale along with her already retired sistership AIDAvita. Since the 2020 suspension of cruising, Carnival Corporation has sold or retired 24 cruise ships plus delivering two others that had previously been sold. The corporation has reduced its fleet from 104 ships to approximately 90.
Seabourn has been going through an evolution as part of the Carnival brands. The cruise line notes that it is expanding its focus on expedition cruising. In announcing the sale of the Odyssey the cruise line writes, "Seabourn's fleet expansion into the ultra-luxury expedition market allows for a more diverse offering of deployment opportunities, which will lead to new and exciting itineraries across all seven continents with a higher guest capacity compared to 2019 even after Seabourn Odyssey's departure."
The first of two new expedition cruise ships, Seabourn Venture entered service in 2022 and she is being followed by a sistership in 2023, the Seabourn Pursuit. The expedition cruise ships are smaller vessels with suites accommodating 264 passengers and built to PC6 Polar Class standards. Seabourn, however will reduce its total fleet capacity by 15 percent following the sale of the Odyssey.
At the beginning of March 2023, Seabourn announced the appointment of Natalya Leahy as the business's new president. Leahy had been with the Holland America Group for seven years including operational oversight of Seabourn. She succeeded Josh Leibowitz who the corporation said was leaving the brand to pursue new opportunities. Leibowitz, who had been with the corporation since 2013, was named president of Seabourn in June 2020 overseeing the return to service after the pandemic.
Mitsui O.S.K. Lines while best known in commercial shipping is also one of Japan's most historic companies in passenger shipping. The company converted to cruising in 1972 and in response to the rising demand in Japan for leisure cruises decided to buy and then build modern cruise ships. Since 1990, they have operated a single ship, Nippon Maru (22,472 gross tons) offering cruises for the Japanese market.
MOL reported last fall as part of an effort to diversify its operations that it was planning to build two 35,000 gross ton cruise ships, the first of which was expected to be delivered around 2027. The company said it would consider two additional cruise ships if the first two were successful.