Carnival Adds New Cuba Cruises Departing Miami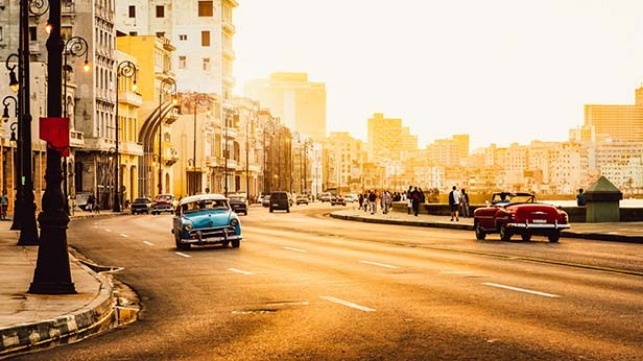 Carnival Cruise Line announced Tuesday that it will offer 17 sailings to Cuba aboard the Miami-based vessel Carnival Sensation in 2019. The five-day trips will be the line's first Cuba voyages from Miami, and will include one day-long call in Havana, plus stops at Grand Turk, Grand Cayman, Nassau, and the cruise line private islands Half Moon Cay and Princess Cay. The voyages are in addition to the ongoing departures for Cuba aboard the Carnival Paradise.
"Our inaugural cruises to Cuba aboard Carnival Paradise from Tampa were met with exceptional guest response and we're thrilled to expand upon the program with our first Cuba cruises from Miami," said Christine Duffy, the line's president. "Cuba is a sought-after destination and we're delighted to provide our guests with even more opportunities to experience and explore this fascinating island."
Guests sailing on Carnival's Cuba cruises can pick from about 20 different shore excursions to experience Havana's culture and architectural landmarks. A variety of on board, Cuban-themed activities and entertainment will also be on offer, and for those inclined to learn more about the destination, the Sensation will have an onboard lecturer to discuss Cuban history and culture.
The visits to Havana comply with U.S. Department of Treasury rules that permit cruise lines to transport approved travelers to Cuba to engage in a permissible activity, as laid out by the Treasury's Office of Foreign Assets Control (OFAC). Carnival says that American guests who book after June 2017 cannot make their own separate arrangements for self-guided "people-to-people" tours on shore, and for compliance purposes they must opt for a Carnival-organized group excursion instead.
In June 2017, President Donald Trump signed an executive order that prohibits U.S. travelers from "self-certifying" their compliance with OFAC's restrictions, effectively limiting American tourists in Cuba to authorized group tours. The change had an immediate effect on airline services to Cuba, which relied heavily on independent travelers, but the new policy has not dampened enthusiasm for Havana-bound cruises.