Captain of Spanish Longliner Charged with Shark Finning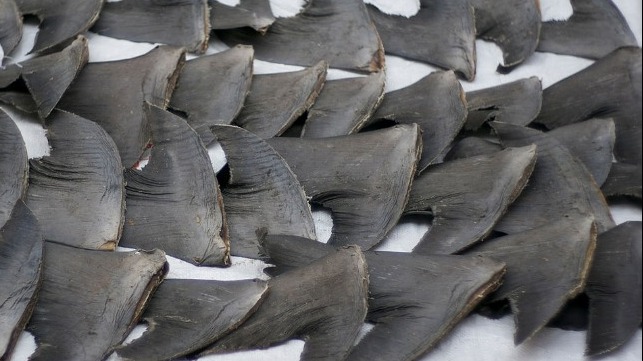 The captain of a Spanish-flagged fishing vessel has been charged with shark finning after Irish Naval Service personnel boarded his vessel and found more than one tonne of fins on board.
After a tip-off from Ireland's Sea Fisheries Protection Authority (SFPA), the patrol vessel William Butler Yeats intercepted and boarded the longliner Virxen de Blanca off the southwestern tip of Ireland. The Yeats escorted the de Blanca to port at Castletownbere, Cork, where she was transferred to the custody of the SFPA and the Garda Siochana. In court, prosecutors contended that the vessel was found carrying 2,800 pounds of shark fins, in addition to 360,000 pounds of blue and mako shark. Whole sharks may be caught and landed legally, but finning at sea is prohibited under EU regulations.
"We have zero tolerance for vessels removing fins from sharks in our waters," said Dr. Susan Steele, the chair of the SFPA.
Finning - the practice of taking a shark's fins, then returning the rest of the fish to the water - is illegal in the United States and has been banned in the EU since 2013, but it continues in many parts of the world. Itcan be lucrative, as the fins command a high price in China. Shark fin soup may run $100 per bowl, which means that the wholesale price for fins can exceed $1000 per pound.
This high commodity price has created an international black market in illegally-obtained fins. Last weekend, authorities in Gujarat, India seized eight tonnes of dried shark fins that were allegedly bound for the export market. On Tuesday, following a request from the Indian government, Malaysian authorities seized a Hong Kong-bound container of "dried ray skin" that turned out to contain another four tonnes of fins. Four ringleaders of the operation have been detained on charges of customs violations and face up to seven years in jail if convicted.