California Will Invest $1.5 Billion in Port Infrastructure Upgrades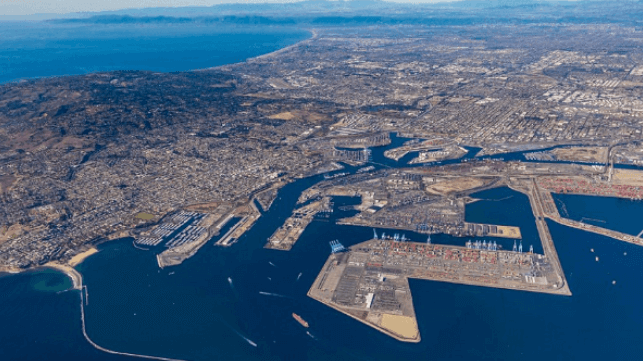 California announced plans for a statewide investment program designed to enhance the operations of the ports and supply chain by supporting sustainability and efficiency while also producing lifesaving safety improvements. The projects receiving state funding include modernizing upgrades at the ports of Los Angeles and Long Beach, the busiest ports in the Western Hemisphere, as well as the state's other seaports and inland ports.
"No other state has a supply chain as critical to the national and global economy as California," said Governor Gavin Newsom. "These investments – unprecedented in scope and scale – will modernize our ports, reduce pollution, eliminate bottlenecks, and create a more dynamic distribution network."
Included in the overall effort, is $1.2 billion which will fund 15 projects designed to enhance efficient goods movement system and will also support a more sustainable operation throughout the supply chain. The projects include efforts to increase the capacity to move goods throughout the state's global trade gateways. Included in the overall program is $450 million to support zero-emission projects for infrastructure, locomotives, vessels, and vehicles.
A further $350 million is included in the overall program to be administered by the California State Transportation Agency (CalSTA). This focuses on 13 projects that will eliminate street-level rail crossings to make critical lifesaving safety improvements, reduce emissions, and keep goods and people moving.
The awards announced today are a result of the executive order Governor Newsom issued in October 2021 that called on state agencies to develop longer-term budget proposals that support port operations and goods movement. The funding – particularly the investments in zero-emission projects, which account for nearly 40 percent of the Port and Freight Infrastructure Program awards – also builds on a partnership between the governments of California and Japan announced this March to collaborate on strategies to cut planet-warming pollution at seaports and establish green shipping corridors as part of the state's broader strategy to aggressively combat and adapt to climate change.
Among the elements of the program is a $149 million award for the Maritime Support Facility (MSF) Improvement and Expansion Project at the Port of Los Angeles which focuses on increasing port efficiency by greatly reducing truck-miles-traveled inside the port and at its container terminals. The Port of Los Angeles also received more than $80 million for roadway improvements including a new pedestrian bridge for Wilmington and a project that augments an existing partial roadway interchange that directly serves 10 percent of all waterborne containers entering and exiting the entire United States.
The Port of Long Beach received $383 million for its System-Wide Investment in Freight Transport (SWIFT) project will provide resources to accelerate port modernization, improve goods movement Efficiency. Among the range of projects are investments for new equipment at the Long Beach Container Terminal and SSA Terminal as well as Crowley Marine's effort to develop a battery plug-in hybrid propulsion tugboat capable of ship assist and harbor work.
Other projects include nearly $80 million to the Port of Hueneme and $17 million to the Port of Oakland. More than $100 million goes to the Port of Oakland Terminal Modernization Project which will improve underutilized and dilapidated marine terminal infrastructure, promote technologies including zero-emissions equipment and infrastructure, and generally modernize marine terminal assets.
A listing of the projects is available online.