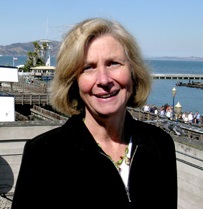 Carolyn Horgan, a female pioneer in the San Francisco Bay Area's world of water transportation, is leaving her position as President of Blue & Gold Fleet after 43 years in the San Francisco maritime industry.
Carolyn started her career in 1973 knowing little about the water transportation business. A quick study and not afraid to work long hours, she realized early on that she had found her niche.
Horgan rose through the ranks of the San Francisco maritime industry to become head of Blue & Gold Fleet, the Bay Area's premier provider of ferry and water excursion services on the bay, carrying 3.5 million passengers annually and operating a fleet of 18 vessels.
After more than four decades of working on the San Francisco waterfront, she has announced her retirement at the end of 2016.
"Carolyn is a valuable asset to our companies," said Taylor Safford, President and Chief Executive Officer of PIER 39, owners of Blue & Gold Fleet. "She has the passion and drive needed to lead this fast-paced and multi-faceted company. We've never been more successful than under her watch."
Horgan, who replaced Safford as President of Blue & Gold Fleet, is one of two females in Northern California to head a ferry and excursion business on San Francisco Bay. In a male dominated industry, being determined and dedicated served her well.
Horgan received praise when her crews jumped into action after the West Oakland Bart station had a fire which melted the third rail and shut the system down. At that time the Oakland/Alameda route had 15 regularly scheduled roundtrips per day and carried 1,800 passengers to and from San Francisco. The day of the fire Horgan and her team mobilized the entire fleet and increased roundtrips to 30 and transported more than 10,000 people.
"The Water Emergency Transportation Authority (WETA), who awarded Blue & Gold their exclusive operating contract, was pleased with our ability to move quickly and effectively to transport passengers to and from the City," said Horgan. "But more importantly, we proved that the ferry transportation system is invaluable to the Bay Area."
Horgan's talent, temperament and tenaciousness have allowed her to survive and succeed in her career. During the 1989 Loma Prieta Earthquake, San Francisco experienced damage that included the collapse of a section of the double-deck Bay Bridge and the shutdown of Bay Area Rapid Transit (BART), leaving thousands of commuters stranded with no way home. Horgan, then working as Dispatch Supervisor at Crowley Maritime's Red & White Fleet, reacted quickly and organized the crews and boats to not only serve 15,000 East Bay commuters the night of the quake, but to additionally provide reliable ferry transportation for thousands of passengers for several months following. This led to the creation of the Alameda and Oakland ferry service to San Francisco and to the expansion of the Vallejo ferry service.
Her early training and experience at Crowley Maritime as Dispatcher was extremely helpful as she continued to face maritime-related obstacles over the years.
A strong collaborator, Horgan worked on a cooperative safety and security strategy, the Vessel Mutual Assistance Plan (VMAP), with the United States Coast Guard, Port of San Francisco, Marine Exchange and all Bay Area ferry operators. This plan established procedures to ensure the safety of all passengers on San Francisco Bay.
Fostering partnerships comes naturally to Carolyn. She is proud of the fact that Blue & Gold Fleet has one of the longest standing labor agreements of all ferry operators, which demonstrates the hard-earned trust between management and the rank and file. Blue & Gold Fleet hires employees from the Masters & Pilots Union (MMP) and the Inlandboatman's Union-Pacific (IBU).
The Quality Management System (QMS) that Carolyn initiated during her tenure incorporates many of her strengths, such as customer focus, leadership, engagement of people and relationship management. "Together with our consultant, we were able to engage the workforce in a way that made our employees embrace the QMS. It has given Blue & Gold a framework to measure and monitor the effectiveness of our safety initiatives. I am incredibly proud of having achieved this goal and also in becoming certified in ISO 9001 (customer service) and 14001 (environmental services)," says Horgan.
The San Francisco Bay is many things to many people, but for Carolyn Horgan, it's her life-long passion. She loves her work, the people, the vessels, all the various organizations, the challenge and the stories. As a mother of two and now a grandmother of two (soon to be three), you can bet she will enjoy telling her tales to her grandchildren about life on San Francisco Bay. Perhaps she may even inspire a young and ambitious Horgan to venture into the curious world of the maritime industry.
Horgan's Career Path:
1973 Hired as a Receptionist at Crowley Maritime's, Red & White Fleet (R&W), she worked in the office, answered phones and got hands-on experience in the ferry business.
1976 Became the first female Dispatcher at R&W and in the Bay Area. Eventually became the Dispatch Supervisor. She was then given more responsibilities and was promoted to Dispatch Supervisor for R&W's Harbor Tug & Barge as well.
1985 Earned her MBA in Marketing and was promoted to Marketing Manager.
1993 At her insistence, she was back at her fast-paced dispatch job that she loved, navigating crews, boats and people around the Bay. Soon after, she was promoted to Operations Manager.
1997 Horgan was hired by Blue & Gold Fleet as its Vice President of Operations when Blue & Gold acquired R&W in June.
2012 Carolyn was appointed President of Blue & Gold Fleet.
Horgan is a member of the following organizations:
2010 to Present Board Member Passenger Vessel Association
2012 to Present Member of the Maritime Commerce Advisory Committee
2013 Elected President of the Passenger Vessel Association
2015/16 Fisherman's Wharf Community Benefit District Board of Directors Member
2016 Port of San Francisco's Waterfront Land Use Plan Update Member