Birka Stockholm Acquired to Resume Post-Pandemic Baltic Cruises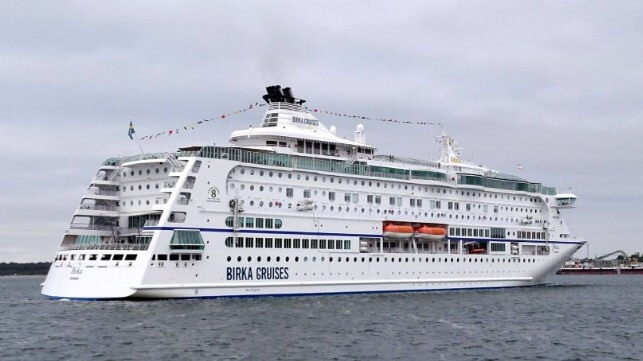 Another of the cruise industry's vessels impacted by the pandemic three years ago, the Birka Stockholm, is finding new employment as pent-up demand and travel patterns resume. Swedish shipping company Gotlandsbolaget has purchased the mini-cruise ship and plans to restart the trips in the Baltic in 2024.
"Birka Stockholm is a purely passenger ship, and we see great opportunities for her to complement the Gotland traffic," says Håkan Johansson, CEO of Gotlandsbolaget. "In 2022, we continued to streamline our fleet to focus on infrastructure and future shipping. With Birka Stockholm, we are further consolidating our position in passenger shipping in the Baltic Sea."
The 34,900 gross ton passenger ship was built in 2004 at Aker Finnyards (today Meyer Turku) for Rederiaktiebolaget Eckero to operate for the company's Birka Cruises division. She is 580 feet long with 734 cabins to accommodate approximately 1,800 passengers. The ship is unique in that she was specifically designed for short, day cruises in the Baltic.
She entered service in November 2004 as the Birka Paradise operating 22-hour cruises from Stockholm to Mariehamn. While she would later also operate some longer cruises in the Baltic, her primary operation remained the short cruise. In 2009, she was re-registered in Sweden and later renamed Birka Stockholm to take advantage of laws governing the sale of duty-free merchandise during the cruises.
Birka suspended operations in March 2020 due to increasing travel restrictions bought on by the pandemic. They had hoped to restart service in May but in July 2020 announced they would be going out of business laying off as many as 500 employees due to the pandemic. The Birka Stockholm was offered for sale.
Eckero reports the ship is being sold for approximately €38 million ($41 million), which will result in a write-down amounting to approximately €12 million ($13 million). They expect delivery to take place in April 2023. Both Eckero and Gotlandsbolaget also continue to operate RoRo passenger ferries and freight operations in the Batlic.
Gotlandsbolaget working with its subsidiary Destination Gotland reports they plan to restart the cruises in the spring of 2024. Birka Stockholm will offer sailings operating between Stockholm, Mariehamn, and Visby, with some variation in the program depending on the time of year. The company says the new operation will be similar to the prior cruises with a new route while still offering tax-free shopping, food, and entertainment.
"There is a market for this type of cruise in the Baltic Sea, and traffic to Visby for parts of the year will further strengthen interest," said Marcus Risberg, CEO of Destination Gotland. "Visby has become an increasingly attractive cruise port, and we see it as a great opportunity to both develop our business and create new reasons to visit Gotland."
Birka Stockholm becomes the latest cruise ship impacted by the pandemic that has been sold and is now scheduled to return to service. French start-up cruise line Compagnie Française de Croisières (CFC) is due to launch in May after completing the refurbishment of the former Maasdam of Holland America Line which is becoming the Renaissance. Similarly, Celestyal Cruises plans to introduce the former Ryndam as the Celeystal Journey in September. Japan's Peace Boat is also due to resume sailing in April with the Pacific World, which was acquired in 2020 from Princess Cruises.