Barcelona Moves Cruise Ships Out of City Center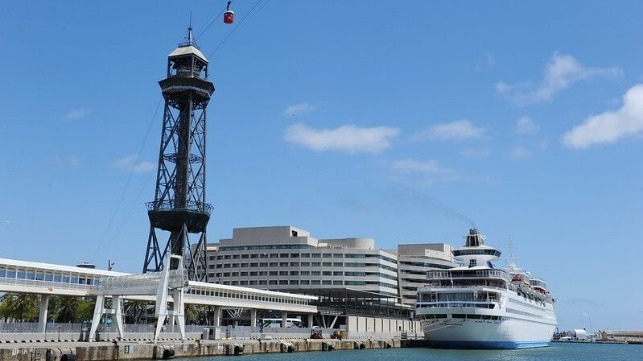 Barcelona has followed Venice's lead and relocated all large cruise ships out of its central core, reducing pollution and pedestrian traffic in a popular historic district.
The city's World Trade Centre terminal near Barceloneta was the main berthing location for cruise ships for years. It is located next to the old city's tourist-friendly boulevard, Las Ramblas, and the Gothic Quarter neighborhood, the oldest section of the city core.
Cruise tourism is an important economic driver for Barcelona, and up to 200,000 people can disembark in the city in a given month. But like other popular European cruise destinations, Barcelona has been rethinking its relationship with visitors. "Forty percent of the cruise ships stop for four hours. They don't give the city economic return, and thousands of people disembark, create great mobility issues and then leave," Mayor Ada Colau told The Times earlier this year.
Even most cruise tourists agree that there are too many people in the busiest hot spots in Barcelona, according to a recent survey by Universitat Rovira i Virgili for the Barcelona City Council.
"Many of these changes are no longer perceived as an exceptional event of the summer season: the overcrowding has become chronic throughout the year, especially in the Gothic District and around the Sagrada Família," said researcher Aaron Gutiérrez.
To reduce the impact, Barcelona has ordered cruise ships out of the city core. Instead, all passenger vessel port calls will be handled at the Moll d'Adossat pier, located along the breakwater of the industrial seaport about one mile south. The change will mean that passengers will have to bus to and from the terminal from the city core.
The change will affect about 300-340 port calls a year, according to Port of Barcelona. Though the order takes effect next week, the very last cruise ship to call in the city center already departed October 2.
The move follows the example set by Venice, which decided to relocate cruise traffic out of the city center in 2021.