As Oil Spill Spreads off Mindoro, Communities Weigh Legal Action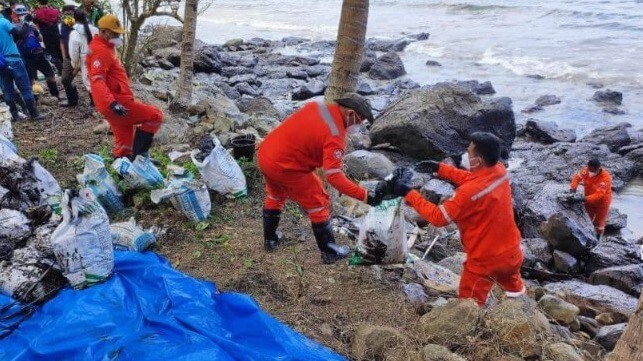 The local government of Pola, Oriental Mindoro is considering a lawsuit against the owner of the sunken product tanker Princess Empress, which went down with a cargo of fuel oil off the town's coast on February 28. The resulting petroleum release has polluted miles of beachfront on Mindoro's eastern shore, along with sensitive environmentally-protected areas and fishing grounds. More than a dozen people have reported symptoms of VOC inhalation, and thousands of local fishermen are out of work due to a fishing ban.
According to Jennifer Cruz, mayor of Pola, the shipowner first got in contact with local authorities on March 8, more than a week after the tanker went down. "They should, I told them, should in such an emergency, the immediate thing is that they go to the place where they should talk properly. It's not that they will turn off the phone or they won't really reply," she said, according to ABS CBN. "I told them not to be afraid to come forward, because they have to face their negligence."
The owner offered assistance, she said, but the aid duplicates existing provisions from government agencies, and she declined to accept it until after consultation with the provincial government.
In a forum convened Thursday by a consortium of environmental organizations, Liza Osorio, legal and policy director for Oceana, urged the Philippine government to hold the shipowner accountable through the courts. Philippine law contains antipollution statutes based on the "polluter pays" principle, and these rules should be used to pursue compensation for the affected communities, she said.
According to Ivan Andres, program lead at the think tank Center for Energy, Ecology and Development (CEED), the spill is having a substantial effect on the local economy, beyond its impact on fishing. "Livelihood impacts are being felt by businesses and workers alike," he said. "The no-fishing order and the prevention of tourism are a major hit to these businesses."
Meanwhile, the spill continues to drift to the south, and containment efforts have had limited success. The Philippine Coast Guard has deployed booms around the wreck site and is applying dispersant in an attempt to minimize the impact of the spill, but nine out of 15 communities in Oriental Mindoro have already been affected, along with areas in the Caluya Islands.
"Unfortunately, because of the prevailing wind condition brought by the [monsoon], the oil slick continues to spread," Dr. Irene Rodriguez of the the University of the Philippines Marine Science Institute told The Manila Times. "It will continue to follow this trajectory if the prevailing winds will continue in the next days."