Aramco Ships First "Low-Carbon" Ammonia for Power Generation to Japan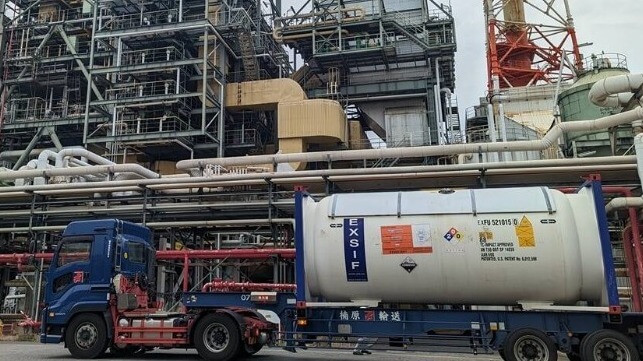 Saudi Aramco and Aramco-owned petchem firm SABIC have shipped the first cargo of "low-carbon ammonia" for use in power generation in Japan, the firms announced Friday.
The low-carbon ammonia was produced by SABIC Agri-Nutrients with fossil-fuel feedstock from Aramco; sold by Aramco to Fuji Oil Company; and transported by Mitsui O.S.K. Lines. The consignment has arrived at Fuji Oil's Sodegaura oil refinery in Japan, where it will be burned along with other feedstocks to generate power for refining operations. The project parallels a broader policy push in Japan to import clean ammonia and combust it along with coal in conventional powerplants.
SABIC produces conventional hydrogen and ammonia from natural gas feedstocks. According to Aramco, this particular cargo of ammonia was independently-certified as "low-carbon" because the CO2 from the manufacturing process was captured and utilized in downstream applications. The partners did not specify the end use, but a previous shipment repurposed the CO2 to make methanol.
"Saudi Arabia is working towards becoming the world's largest exporter of clean (blue) hydrogen by 2030. Our Kingdom maintains large natural gas reserves and ample renewable energy which enable a capacity to produce clean (blue) hydrogen at a competitive cost – this can then be converted into ammonia," said HRH Prince Abdulaziz bin Salman, Energy Minister of Saudi Arabia.
Efforts to adapt conventional, gas-derived "gray" ammonia to the green transition are gathering steam. Earlier this month, Yara Clean Ammonia and Enbridge announced plans to develop and build a low-carbon blue ammonia facility in Texas. The $2.5-3.0 billion plant will be located at the Enbridge Ingleside Energy Center (EIEC) near Corpus Christi. About 95 percent of the CO2 generated from production will be captured and permanently stored belowground, not reused.