Right-Wing Group Launches Migrant "Rescue" Mission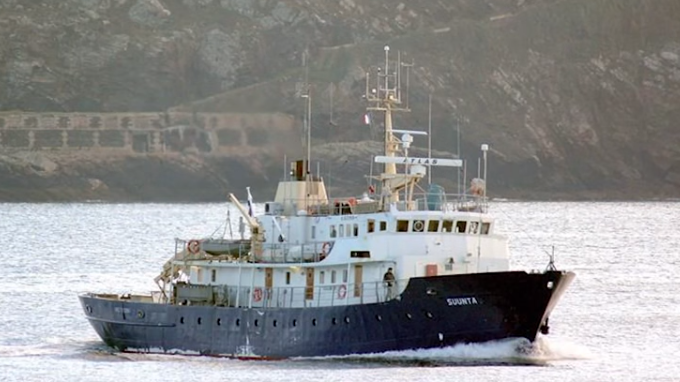 The right-wing "Generation Identity" youth movement has raised $100,000 to charter a ship for an "identitarian search and rescue mission" off the coast of Libya.
The self-described "mission to save Europe, to stop illegal immigration, and end the dying on the sea" would entail three tasks, according to a video posted by its sponsors. First, the mission would monitor rescue vessels operated by charitable NGOs and report their activities to the Libyan Coast Guard; second, it would "intervene when they're doing something illegal;" and third, when called upon, it would rescue migrants in distress. Unlike the existing NGO operations, the "Defend Europe" mission would return all rescued migrants to Libya.
Martin Sellner, a leader of the Austrian branch of Generation Identity, went further in a recent interview with Vox. "We are blaming those NGOS for luring people into the sea," he said. "We think those NGOs need to be stopped."
UK-based activist group Hope Not Hate contends that Defend Europe's mission is racially motivated, noting that it has received enthusiastic support from the former leader of the KKK and the editor of neo-Nazi news outlet Daily Stormer. Government authorities agree: last month, German justice minister Heiko Maas said in an interview that "the Identitarians are not a 'movement,' they are an extreme, radical and racist minority." Sellner rejects these charges, contending that there is an active conspiracy to discredit his group.
An earlier "Defend Europe" fundraising effort failed when Paypal suspended the group's account and refunded all donations. The new effort was hosted on WeSearchr, a for-profit crowdfunding platform that keeps a large percentage and permits campaigns with racist overtones. "We're willing to take pretty much anyone, so long as the cut is larger," said founder Charles Johnson in a recent interview.
Russian state-funded outlet RT reports that Defend Europe has \chartered the Mongolian-flagged research vessel C Star, ex name Suunta, which set sail July 6 from Djibouti. The 160 dwt C Star was built in 1975; her Equasis record shows that she was reflagged, renamed and sold to a new owner in the UK earlier this year.
An ongoing debate over migrant rescue
Opponents of the NGO rescue missions contend that they facilitate human smuggling by shortening the distance traveled by sea. Many NGO rescue vessels wait outside Libyan territorial waters, and critics argue that human smugglers have taken advantage of the nearby SAR presence to increase traffic and economize on the seaworthiness of their small craft.
The NGOs generally contend that migrant death tolls would be higher if not for their intervention, and that Libyan Coast Guard rescue efforts return the migrants to dangerous conditions on shore. Human rights advocates say that the migrants are likely to face a wide range of abuses in Libyan prisons and transit camps, ranging from physical violence to extortion and kidnapping.
Italian authorities are reportedly considering a new Code of Conduct for maritime rescue NGOs that could reduce their independence, to include a ban on entry into Libyan waters, a special class certification for search and rescue, and a prohibition on the transshipment of survivors. NGO Human Rights at Sea immediately objected to the possibility of new restrictions on maritime rescue organizations. "Imposed or planned imposed restrictions on the freedom of action by NGOs without consultation or engagement should be challenged at first instance, and any planned EU Code of Conduct must have NGO input to support a comprehensive approach to search and rescue in the Mediterranean," said CEO David Hammond in a statement. "This should not be a precursor to exclusion of NGOs for political reasoning, or more worrying, a precursor to legislation that has the same deliberate effect."