AMVER Vessel Recognized for Rescue of 19 Fishermen
On Monday, representatives from the U.S. Coast Guard and the Automated Mutual Assistance Vessel Rescue System (AMVER) presented an award to the crew of the bulker K. Coral in recognition of her rescue of 19 Chinese and Indonesian fishermen from a burning vessel some 900 miles off Bermuda.
In a statement announcing the award, the Coast Guard also released new details of the circumstances leading to the rescue. On June 20, K. Coral's first mate saw a smoke plume at approximately four nm out, and the master ordered a change in course to investigate. They reached the burning fishing vessel and began taking survivors aboard, and they contacted the Rescue Coordination Center Bermuda to report the incident.
Two additional survivors had drifted away on a raft, and it took the K. Coral and a second AMVER vessel, the bulker Cherry Point, another six hours to find the men. On finding the raft, the crew of the K. Coral brought aboard one of the two survivors, but the second man drifted away and was lost in rain and darkness. After another two hours of searching, the crew located him again and brought him aboard.
"The K. Coral's impressive actions and results exemplify the finest traditions of being a professional mariner," said Coast Guard Captain E.J. Marohn, head of First District External Affairs.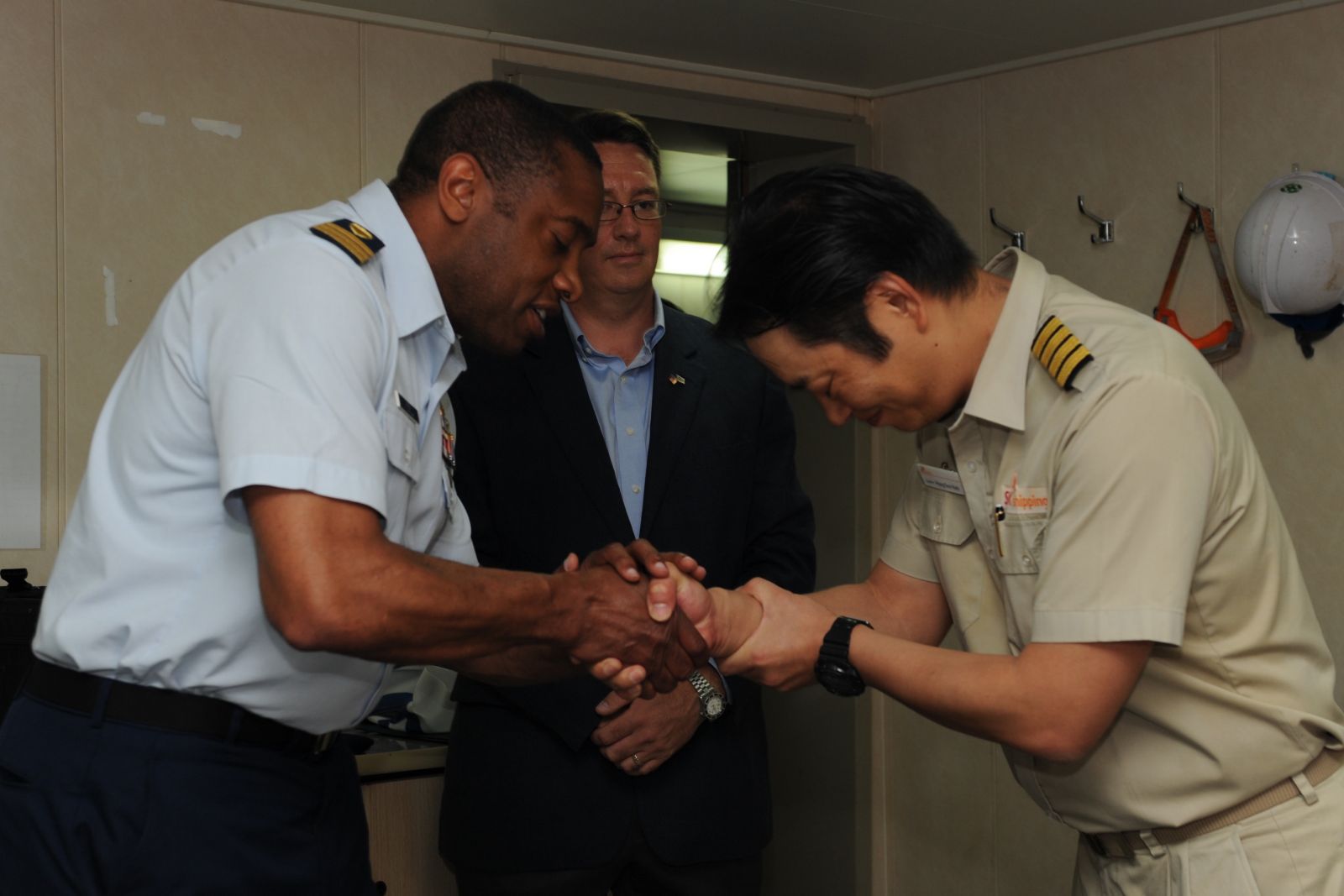 Coast Guard Cmdr. Kevin Reed presents the captain of the K. Coral with a Coast Guard appreciation coin
Two of the survivors had suffered third degree burns, and as the K. Coral made for the eastern seaboard and shoreside medical aid, the U.S. Coast Guard coordination center in Portsmouth, Virginia called out an unusual SAR asset: an Air Force HC-130J Combat King II and a complement of seven Special Operations pararescuemen, who are ordinarily tasked with the rescue and extraction of military personnel in hostile environments. All seven "parachuted to the ship," made it safely aboard and provided medical care to the injured men, the Coast Guard said.