Alarm as Cases of Seafarers Abandonment Hit New Highs in 2022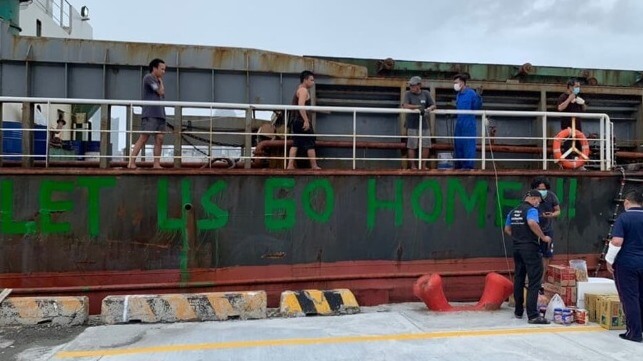 The commercial shipping industry is grappling with growing condemnation after the number of abandoned seafarers continued to surge, hitting a new high of 103 in 2022. The trend is growing with the number of seafarers abandoned fast approaching the 10,000 mark in a span of two decades with just over 700 vessels involved according to a new report from the ESG platform RightShip.
Just a day after four seafarers were forced to seize a cargo ship off the port of Dakar in Senegal after months without pay and mounting danger to their lives, RightShip is reporting that 2022 saw the highest number of seafarers' abandonment with 103 cases reported involving 1,682 seafarers. Equally concerning is that the growth is part of an ongoing trend over the past five years. In 2021, the number of reports stood at 94, up from 77 in 2020, 51 in 2019, and 50 in 2018. It has been five consecutive years of increases coming up from a low of mostly under 20 cases a year between 2000 and 2016.
The group reports that abandonment rates remained high in 2022 despite the resumption of access to global ports and the smoother movement of cargo as the disruptions created by COVID-19 eased. However, the fact that especially smaller shipping companies are still recovering from the pandemic's impact as well as the collapse of freight rates in some segments while costs skyrocketed means that smaller ship owners and managers are still struggling financially and cannot meet their financial and welfare obligations to seafarers.
According to RightShip, the financial cost is mounting with the group estimating that over the past 20 years, unpaid wages to seafarers amounted to nearly $40 million. They noted that the current upward trend is similar to 2009, immediately after the global financial crash, when due to deep financial problems in the maritime markets when vessel and freight prices plummeted cases jumped to 65 in one year.
They also contend that the 2017 Maritime Labour Convention (MLC) rules, which empower seafarers abandoned and unpaid for two months to claim their wages via mandatory insurance, have also contributed to the rising cases. The rules compel shipowners to have insurance to assist seafarers if abandoned.
"When seafarer abandonment still happens, it is largely down to the ruthlessness of capitalism. Wanting to eliminate the issue means putting in place your best management practices to stop it. You can do this," said Steen Lund, RightShip CEO.
The International Maritime Organization (IMO) defines abandonment as when a shipowner can't cover the cost of a seafarer's repatriation or fails to pay wages and provide maintenance and support for at least two months. RightShip, however, highlights that the consequences can be far more dire. The reality they report is that crewmembers are being left without food, water, supplies, or medicine and are often cut off with little ability to communicate.
According to the report, a total of 106 countries across the globe and 85 flag states have been involved in the abandonment cases with the United Arab Emirates being the worst offender with 89 cases. It is followed by Spain at 45, Turkey at 37, Iran at 34, and Italy at 25. RightShip's data also shows that the most people abandoned by nationality are from India, with 1,491 seafarers. Ukraine and Russia are also recording a hike in the number of abandonment due to the current conflict.
General cargo ships at 31.2 percent, bulk carriers at 8.2 percent, and chemical product tankers at 7.2 percent have been identified as the worst offenders topping the list of 60 vessel descriptions cited as being involved with abandonment. In terms of age, vessels between 26 and 30 years constitute 16.7 percent of the total 703 abandoned vessels.
RightShip contends that with abandonment cases rising each year, the pressure is increasing for the IMO to come up with solutions that align with the MLC and go further to help seafarers. They note that the rising number of cases has led to a backlog of cases before the IMO. They report that a total of 247 cases are awaiting resolution. For 2022, 34 remain open, 17 are in dispute, and 41 were resolved.
RightShip wants to drive meaningful change calling for a better sharing of data while also citing the new efforts from the joint International Labor Organization–IMO Tripartite Working Group. RightShip has also launched its Crew Welfare Self-Assessment as a tool for companies to access and improve their crew welfare standards while they also call on charters to review a ship and owner's records and factor that into their business plans.