Admiral Karl Schultz Takes Command of the U.S. Coast Guard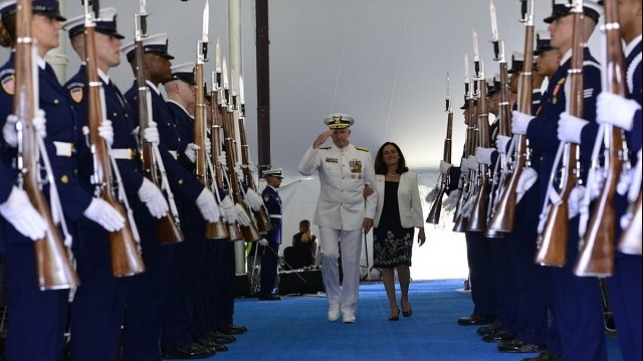 Admiral Karl Schultz took over as Commandant of the U.S. Coast Guard from Admiral Paul Zukunft during a ceremony at U.S. Coast Guard Headquarters on Friday.
The U.S. Coast Guard is the largest component of the Department of Homeland Security, with 56,000 active duty, Reserve and civilian Coast Guardsmen and more than 24,000 volunteer Coast Guard auxiliarists.
Schultz, now the service's 26th commandant, reports to Coast Guard headquarters from Virginia where he served as the Coast Guard Atlantic Area commander since August 2016.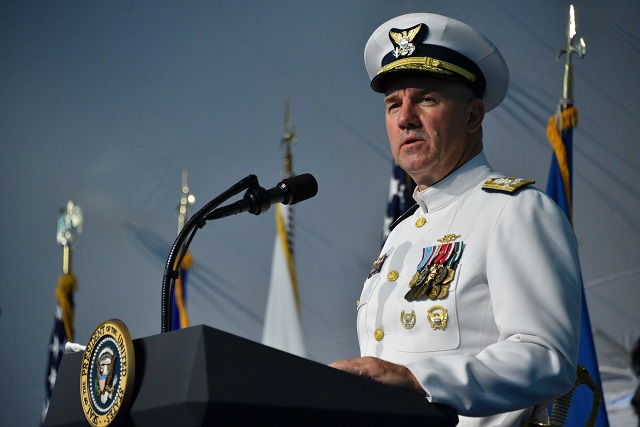 "The Coast Guard remains a service that is trusted, respected and valued by our citizens because of the tremendous leadership of Admiral Zukunft," said Schultz, who has also announced guiding principles for his 2018-2022 term of office:
READY
We will be prepared to serve and protect the American people and our national interests.
RELEVANT
We will be a professional and agile armed force, law enforcer, regulator, and maritime first responder on which our partners confidently rely to address the Nation's increasingly complex maritime challenges.
RESPONSIVE
We will employ our bias for action to excel in mission execution as we protect and defend the homeland.
Speaking at the ceremony, President Donald Trump noted the Coast Guard's role in last year's historic hurricane season, noting the efforts of both Zukunft and Schultz: "Our Coast Guard — heroes they are — saved almost 12,000 American lives in that short period...
"Many service members left their own homes and families to plunge out of helicopters, wade through perilous waters, care for the wounded, and rescue the stranded — of which there were many. Your selfless courage has earned the gratitude of our nation.
"With this ceremony, we proudly pass the helm of the United States Coast Guard to the man who oversaw those emergency operations, Admiral Karl Schultz. As Commander of the Coast Guard Atlantic Area, Admiral Schultz took responsibility for the Coast Guard response across the Gulf Coast, the Atlantic and the Caribbean.
"I have complete confidence that Karl will carry out his new mission with the same talent, strength, and devotion that have characterized his entire career."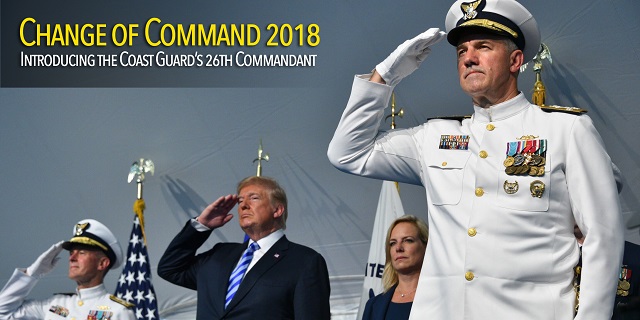 Zukunft retired from the Coast Guard after 41 years of service as part of the same ceremony, in addition to receiving the Homeland Security Distinguished Service Medal.