Adm. Zukunft Confirms Support for Transgender Servicemembers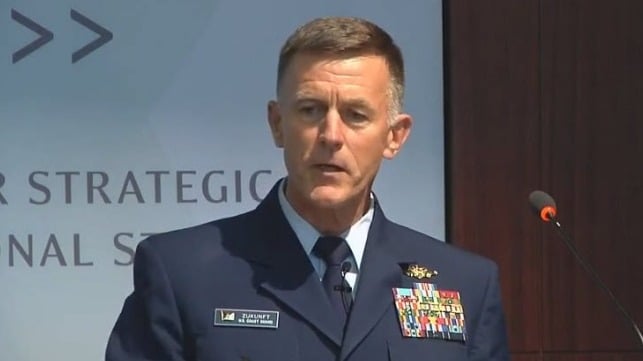 On Tuesday, Coast Guard Commandant Adm. Paul Zukunft told a hearing of the House Homeland Security Subcommittee that his service branch plans to keep transgender servicemembers on active duty. His comments appeared to be inconsistent with President Donald Trump's push to bar transgender individuals from military service.
"We are certainly committed to their continued service in the United States Coast Guard," Zukunft said, responding to a question from the committee. The policy would affect about 17 transgender Coast Guard members, including one member of Zukunft's personal staff. The commandant added that he is working with the other service branches to make sure that the military's policy on transgender individuals is "reconciled" and uniform across the armed forces.
Zukunft's comments were an affirmation of his previous statement that the Coast Guard "will not break faith" with its transgender servicemembers. The commandant is due to retire in June, and he will be succeeded by Vice Adm. Karl Shultz.
After the Trump administration announced the ban last year, multiple federal courts handed down injunctions to prevent it from entering into effect while a series of civil suits proceed. Transgender advocates contend that the ban does not have bearing on military readiness, and the lawsuits allege that it is discriminatory.
In February, Defense Secretary James Mattis recommended a more limited set of restrictions that would allow some transgender individuals to enter the armed forces so long as they do not transition. In addition, he suggested that the military should allow current transgender servicemembers to remain in their roles. In a memo, he advised President Trump to revoke the proposed ban and allow the Department of Defense and the Department of Homeland Security (on behalf of the Coast Guard) to enact their own policies.