adidas Runs From ?Virgin? Polyester
adidas plans to only use only recycled polyester in its shoes and clothing by 2024.
The company will also stop using "virgin" plastic in its offices, retail outlets, warehouses and distribution centers starting in 2018.
Eric Liedtke, head of Adidas' global brands, told the Financial Times that about 50 percent of the material used in the 920 million individual items adidas sells is polyester. "With those kind of volumes, we cannot make the transition overnight."
adidas said its apparel line for the spring and summer of 2019 will contain around 41 percent recycled polyester. Recycled polyester is 10-20 percent more expensive than fresh material, but industry experts believe the price gap between recycled and new plastics will close as more companies shift to renewables and suppliers increase their ability to produce recycled materials in large quantities.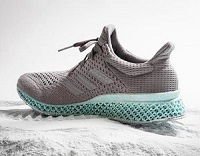 In 2016, the company launched the UltraBOOST Uncaged Parley running shoe - the first mass-produced footwear created using plastic waste retrieved by clean-up operations in the Maldives (95 percent) and recycled polyester (five percent). Each pair reuses 11 plastic bottles. The company reported selling one million pairs of the eco-friendly shoe last year, and the number is expected to jump to five million pairs this year.
In April this year, Parley for the Oceans, adidas Running and FC Barcelona goalkeeper Marcter Stegen unveiled a limited release UltraBOOST Parley silhouette to continue raising awareness for the threat of marine plastic pollution. The colors are inspired by the dark blues and greens of the urban harbor.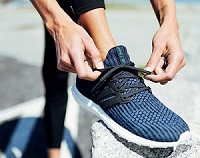 In June this year, adidas Running and Parley for the Oceans unveiled the UltraBOOST Parley in a new Deep Ocean Blue color inspired by the Mariana Trench, the deepest part of the world's oceans and the site of the deepest-known piece of plastic pollution: a single-use plastic bag. The new silhouette was the official shoe of Run For The Oceans 2018, adidas and Parley's global running movement created to fight marine plastic pollution that took place between June 8 and July 8. Nearly one million individual runners participated.
Parley for the Oceans has also partnered with American Express in its plan to introduce the first credit card made primarily using ocean plastic. The Card is currently a prototype and will be tested and refined over time with public availability anticipated in the next 12 months. American Express will also evolve its operations to limit single-use plastics, intercept plastic waste and redesign existing plastic products.

Global use of plastic has increased 20-fold over the past 50 years and is expected to double again in the next 20 years. It is estimated that there will be more plastic than fish by weight in the world's oceans by 2050. Globally, 14 percent of plastic is recycled compared to over 50 percent of paper and around 90 percent of iron and steel.