AD Ports Buys First Tankers and Expands Bulker Fleet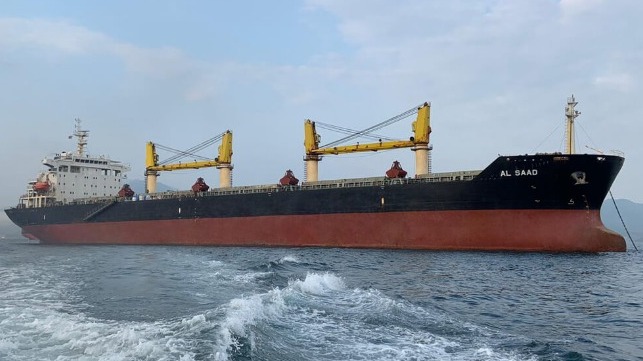 AD Ports, the ports and logistics company headquartered in Abu Dhabi and owned by the government's sovereign wealth fund ADQ, announced the next step in its strategic expansion into related businesses. AD Ports is spending $260 million to expand its bulk carrier fleet and to acquire the company's first crude oil tankers.
Established in 2006, the AD Ports Group initially was operating 10 ports in the UAE but has been working to expand globally and enter into related operations which it calls clusters. The Maritime Cluster is one of the key focus areas that the company is expanding. It includes the Safeen Group which was launched in 2012 operating harbor support vessels and offshore services. In 2020 they expanded with feeder service in addition to bulk carriers. They report the current Safeen fleet numbers 65 vessels. Also in the cluster is Abu Dhabi Maritime, which operates maritime infrastructure such as marinas and recently announced the launch of a water taxi service.
"The extension of our fleet with the purchase of another five bulk carriers and addition of an initial three crude oil tankers is a remarkable milestone for our Maritime Cluster and will further enable us to equip our business with the right assets and logistics capabilities to adapt to the evolving global demand within the industries in which we operate," said Capt. Mohamed Juma Al Shamisi, Managing Director and Group CEO, AD Ports Group. "More importantly, the vessel acquisitions are part of a larger expansion strategy by our Group aimed at broadening our portfolio of services and taking our experience and service excellence to the wider bulk shipping and offshore oil markets."
Under the terms of the agreements, AD Ports reports it is sending $125 million to acquire five bulk carriers to form part of a long-term agreement with Saif Powertec, signed in April 2022, for the movement of general cargo and dry bulk cargo between Fujairah Port in the UAE and Bangladesh, the Indian subcontinent, South-East Asia, and other global destinations. When the agreement was announced, AD Ports Group reported that the two companies would work closely together to facilitate trade and cargo services from Fujairah to Bangladesh over a period of 15 years. As part of the collaboration, Safeen Feeders would provide eight Supramax bulk carriers with 55,000 dwt capacity to Saif Powertec.
No details were provided on the five vessels being purchased. Last June, the company reported it had also purchased two bulkers, Al Saad (57,124 dwt) and Aleena-1 (56,953 dwt). Those vessels were also added as part of the collaboration between Safeen Feeders and Saif Powertec to facilitate trade and cargo services.
The company's first crude oil tankers are being purchased at a total cost of $135 million for the three unnamed ships. They will be used as part of a seven-year vessel pooling agreement formed in December 2022 with KazMorTransFlot (KMTF), a subsidiary of Kazakh National Oil Company (KazMunayGas), for the transport of crude oil internationally. The two companies are collaborating on a broad range of projects, including the development of a new fleet of shallow-water vessels to support offshore operations in the Caspian Sea and the development of a tanker fleet to support the export of Kazakh oil.
In another part of the expansion of the maritime cluster, last month AD Ports announced that Safeen had launched a new container feeder service from Khalifa Port to Shuwaikh Port, Kuwait. With the launch of the new container and Ro-Ro services to Kuwait, AD Ports Group reported it is the third largest independent feeder company globally, by volumes carried, with a total container capacity of 100,000 TEUs, linking core markets in the Gulf, Indian Subcontinent, Red Sea, and Turkey.