7,000 Shipbuilders Wanted: Huntington Ingalls is Hiring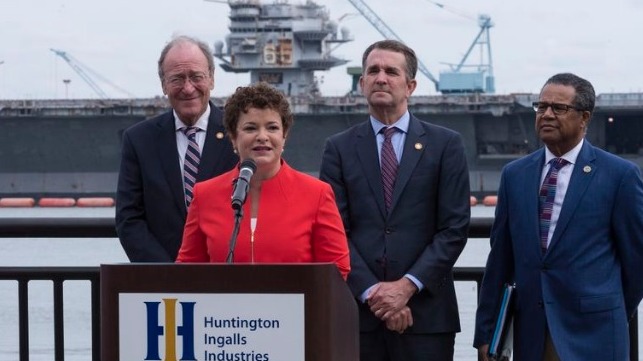 HHI may be downsizing its shipyards, but not HII. Virginia-based Huntington Ingalls Industries says that over the next five years, its yard at Newport News will need 7,000 new shipbuilders to work on subs and warships for the U.S. Navy, including 2,000 net new positions.
HII's Newport News Naval Shipyard needs to recruit enough people to meet its workforce demands for the Ford-class aircraft carrier and Virginia-class submarine programs. The new hires will also support production of Columbia-class ballistic submarines, increased submarine fleet support work and the refueling, overhaul and defueling of Nimitz-class aircraft carriers.
The overall hiring need is so acute that the governor of Virginia is lending his assistance to the recruitment effort.
"Newport News Shipbuilding's success is important not just for Hampton Roads, but for the entire commonwealth," said Virginia Governor Ralph Northam in a statement Thursday. "Therefore, it is critical that we support growth of this magnitude with an innovative partnership between state agencies that will address the company's workforce and training needs and ensure a pipeline of skilled talent."
The shortage of radiological control technicians - employees trained in monitoring and performing work with radioactive material - is especially critical, according to the local Daily Press. According to a Naval Sea Systems Command draft report viewed by the paper, "the potential shortfall in critical nuclear resources [manpower] is a significant problem that impacts the shipyard's ability to complete nuclear work today, and could impact successful delivery of ships to the Navy if not adequately addressed."
In addition to the hiring initiative, Newport News says that it is retraining employees to incorporate new digital technology, and is continuing to make capital investments in the company's facilities and technology infrastructure.
HII is the largest military shipbuilder in the U.S., and it has built more American naval vessels in more classes than any other firm. Its Newport News yard is the only builder of the nation's nuclear-powered aircraft carriers.